Update:
This worked well enough the first time that I decided to do it again.
As can be seen in the picture above, the left side shock was pretty crappy before I refilled it last time so, while it is still working fine and provides more damping than stock, it's now softer than the other side, which is clearly not the way to go.
I was kind of on the fence about finding another Mk4 shock in better condition or just refilling my matching set of GT struts, as they are known to be more or less good as the car was riding just fine before I swapped them for the first set of Phonis. First I checked the junk yard nearest my new California digs for Mk4 struts and after some hemming and hawing, hoping they'd let me go pull it myself, told them what I wanted. The dude looked at me with a straight face and said $95.
What planet do these people live on? At another self-service place in Hesperia I pulled some CRX calipers for the brackets, planning to turn the rest of the caliper in for the core charge on the new ones I had already gotten from Autozone. They wanted $10 more than Autozone wanted for new ones--and I pulled them myself!!! I didn't think I'd miss anything about Louisiana, but no admission, no hassle, no bullshit, giant real junkyards that charge reasonable prices for junk are a nice thing to have nearby.
Sorry, venting.
So given the price of Geo Metro junk around here I decided to go ahead and refill my GT struts as at 120k, they are hardly pristine and there's no point in saving them just because they are "original". This time I tried to be even more meticulous and took a few more pictures for those who might be curious.
Hole drilling location: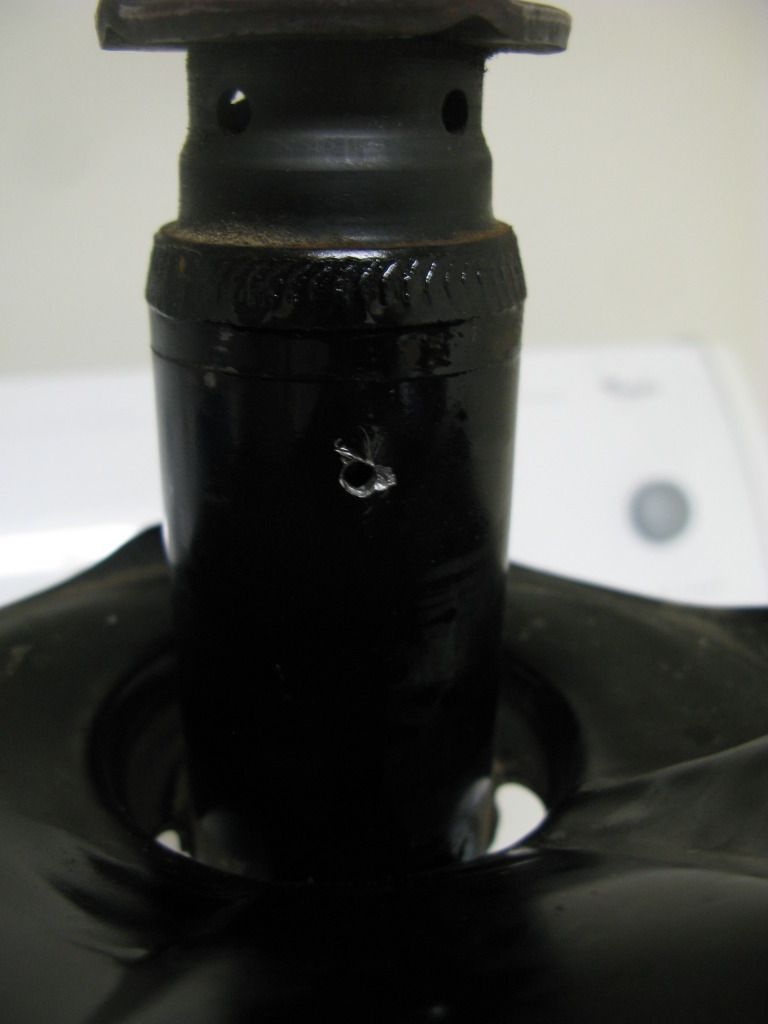 Note that you can see the inside of the shock--one of my concerns was that the hole might damage seals on the the piston as it moves by, but that doesn't happen as one can see by working the shock through its motion and watching the hole--nothing passes it, it's just a hole into the reservoir.
This time I actually attempted to measure the amount of fluid that came out rather than take the figure of roughly 200ml that can be found earlier in the thread.
Here's what I got: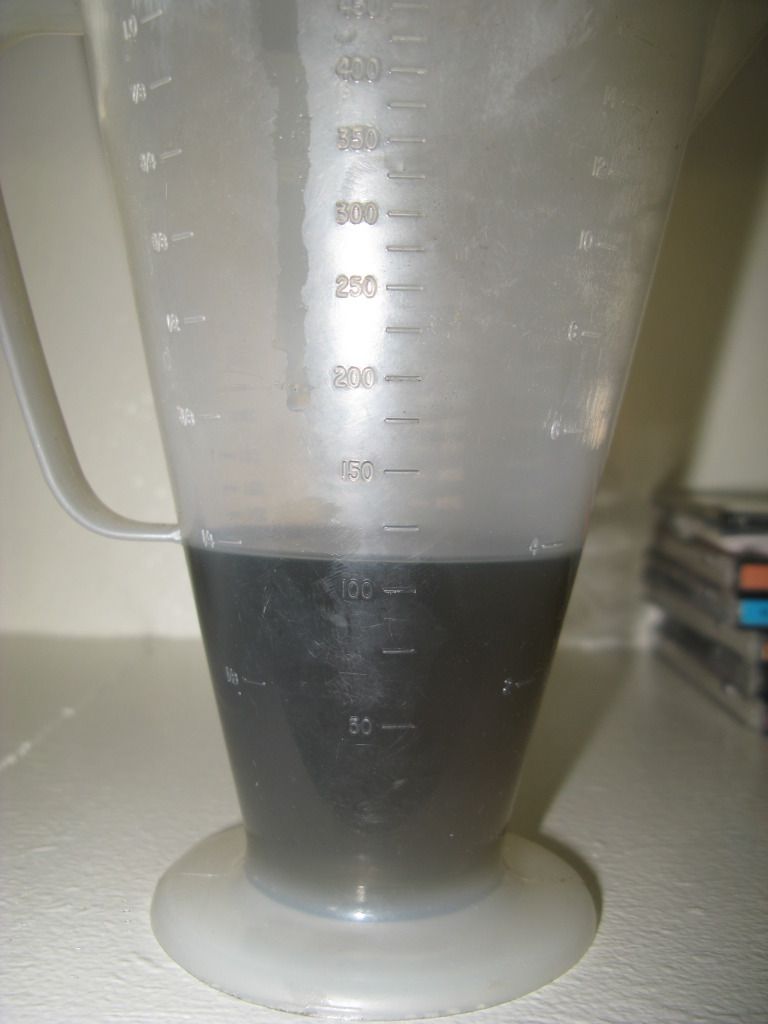 A little more than 100 cc's of fairly nasty looking oil.
An then the other side:
A little less tan 100 ccs but it looks much better.
While I also magnetized my drill bits and put a little bit of Lucas oil on them while drilling, I figured, since I have a lot of it I don't plan to use for anything else, that I would flush them out with a couple of flavor-injector syringe loads of automatic transmission fluid first. I pumped the shock one more time before adding the ATF and another ~ 30 cc comes out (!). After doing this twice, I am now of the opinion that getting a precisely measured amount of oil out (and therefore in) is next to impossible. Just let it sit after you've pumped it and a little more will go out (or in), seemingly indefinitely. I tried to put in roughly 150 ccs, but it's hard to do as you have to move the piston in the bore a little bit to free up space, but then when you move it back the oil shoots out of the hole. This is a messy job--here's my whole kit, including "flavor injector". I found it much easier to refill the syringe from a used lunch meat container than use it to try to measure and suck it directly out of the bottle.
And the finished "Phoni".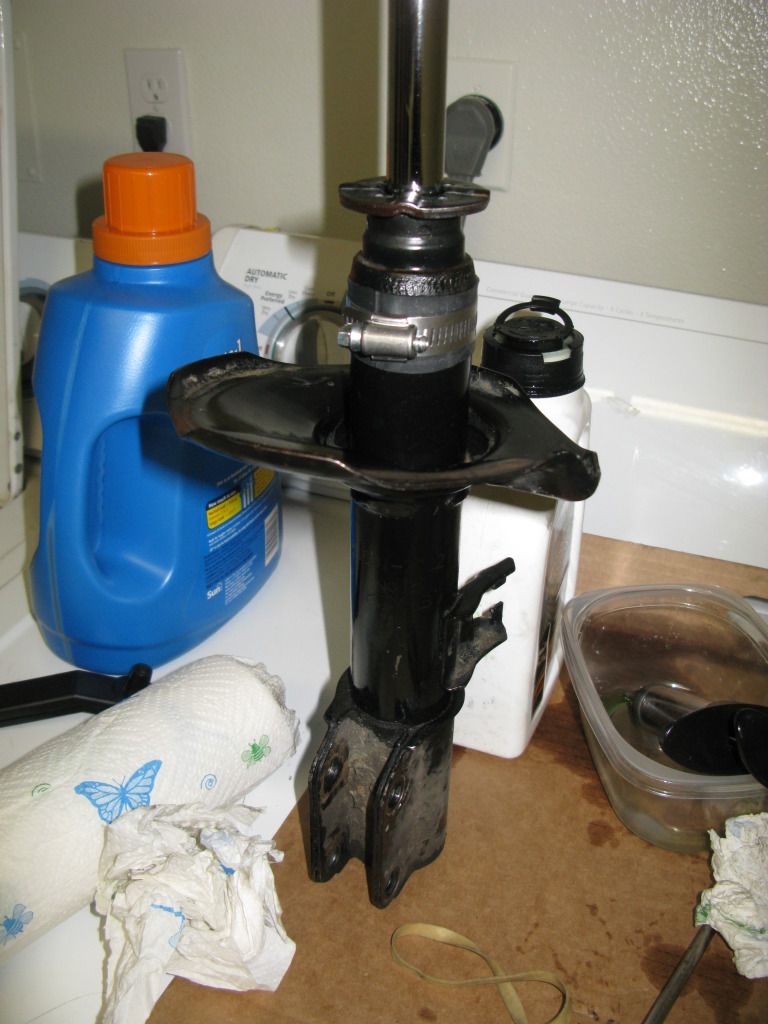 Lessons learned this time around:
A rubber band around the shaft of the strut will keep the piston from settling ever further into the bore while you are squeezing oil into it.
I also found that, guess what, the shock that the ugly oil came out of isn't as firm as the one that had the better looking oil. Part of this was due to not being completely filled--there was a little bit of slop before it would engage one way or the other, so I put a little more oil in it. I have no idea how much is really in the strut now, of course, but I am starting to think that this is hopeless and that I shouldn't worry about it so long as they work. And that did solve the slop problem but I am still trying to decide whether I think it still might be a little softer than the other one. The new oil seems to exaggerate slight differences in compression damping due to worn seals, I think. I might just try to put which ever one I think is firmer on the car, even though it's very different looking compared to the Mk4 strut that's on there now.
FYI, this procedure is covered in this month's Grassroots Motorsports magazine. No credit given to Murr or Team Swift of course, but at least it's acknowledged as a useful low-cost alternative that improves on the function of OEM struts.
_________________
Quote:
No one expects the Spanish Inquisition!
Spanish Inquisition Racing chip burning service--build yourself a custom chip!
http://www.teamswift.net/viewtopic.php?f=17&t=57216