Suppose you are thinking of changing your shock absorbers...
Here's a little DIY which might nudge you in that direction.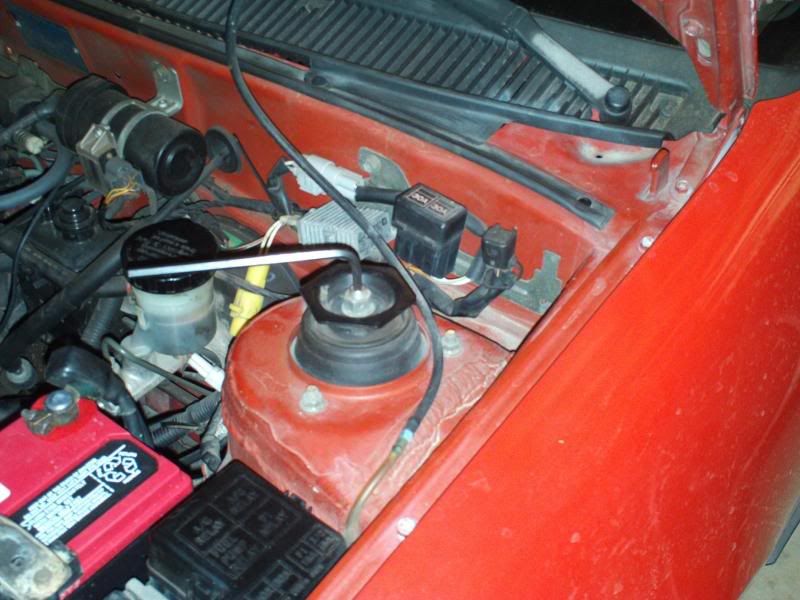 Here we have a Swift.
Nice car. Usually when you buy a used car, the shocks are shot.
How tough is it to change them?
Before you lift the car, loosen the 4 wheel lugs, the three nuts at the top (two if it's an MK1) and the center bolt. Here you can see one type of bolt which has an allen wrench in the center of the shock.
Next
You can see the 4 bolts on the top which you can loosen before you lift it up. 3 are marked with blue arrows. The fourth is in the center of the offset box wrench. Use the allen to hold the shaft steady and loosen the nut marked with the red arrow until the nut is only held on by a couple of threads. If there's no allen, you can hold the shaft in place with a pair of Vise-Grips.
when you lift it up, pull the tire off and set up a couple of jackstands.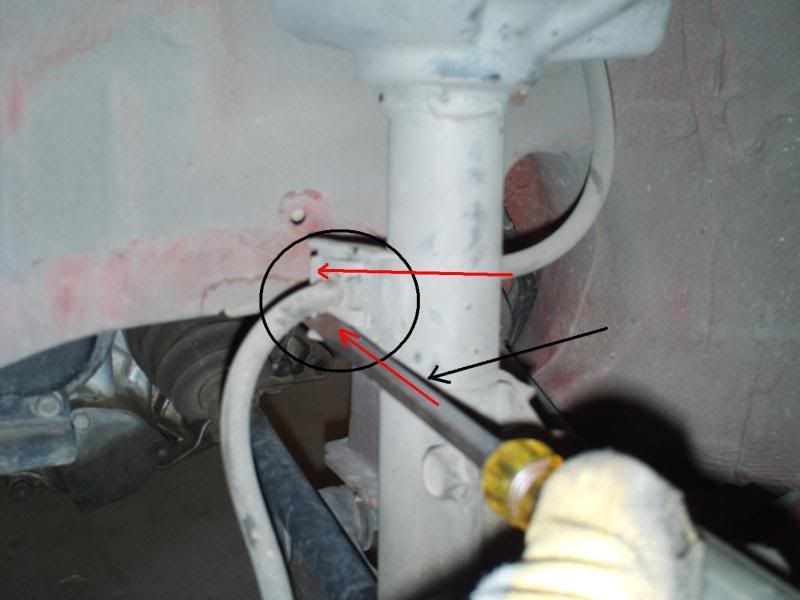 Now, you've got the top loose, and you need to release the brake line from the strut/shock.
Use a screwdriver, and tap it out in the direction of the red arrow.
Ok, now we can remove the two bolts holding the strut to the hub assembly/knuckle.
Here, we have an end wrench on one side, and a breaker bar with a socket on the other:
(it's not you; the picture is blurry
)
If you've done your homework, it should look like this: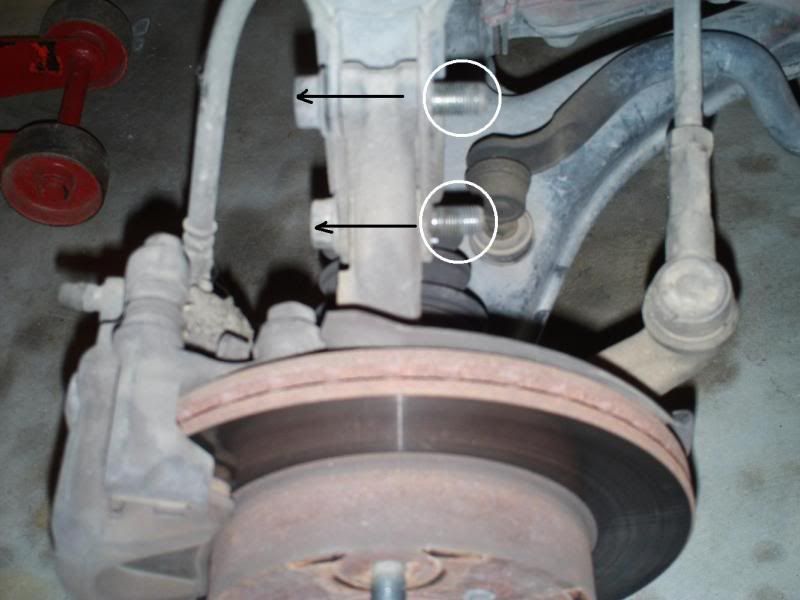 Now, you tap the two bolts out in the direction of the arrow.
Then you can lift the shock up a little bit, and loosen the three nuts on top the rest of the way by hand.
Figure a good hour for the job, and you should end up with this:
So, if you've been thinking about changing your shocks, that's about all there is to pulling them.
_________________
DIY Broken Bolt Removal:
viewtopic.php?f=22&t=41042
DIY Clutch Adjustment:
viewtopic.php?f=9&t=48281
DIY Wheel Bearings:
viewtopic.php?f=2&t=29003
DIY Shocks:
viewtopic.php?f=10&t=45483
DIY Wheel Align:
viewtopic.php?f=2&t=42479
Once you get the cars dialed-in (compression, leaks, bearings, alignment, brakes) swap in new rubber and glass, you've got something which should last for years!