My GTI has been transformed into a rally car by a previous owner. It has some suspension modifications, including polyurethan bushes. Lastly I have had suspension geometry adjusted. The result is not satisfactory:
Left; Right
Front Camber: -0deg 55' ; -0deg 27'
Front Caster: +1deg 04' ; +1deg 05'
Rear Camber: +1deg 03' ; +0deg25'
The biggest problem is the rear positive camber (however, the shop doing the adjustment was doing it wrong, it was ajdusted just after lifting the car, so in real it can have lower values, but still positive). What can cause positive camber on the rear? I have at the moment stock gti springs, the main modification are polybushes. The bigger ones (D-shaped) are asymmetrical:
and what is more they are put in the same direction, so they look like:
As you can see it's not symetrical neither vertically nor horizontally.
What is interesting, on the other side of the vehicle, the bushing is put in other way, the bushings are not symmetrical to each other. Horizontally it looks like:
|-o---| |-o---|
so it looks like someone did something wrong.
Additionally there are signs of friction on inside sides of rear tyres:
I cannot find anything that could do that to them..
Someone in other thread pointed out that maybe these are the bushes that should be placed in the front control arms (where people use assymetrical pattern for more positive caster), but I checked it out and they are a bit different in shape. The rear ones have something like a collar, they are thinner under the iron mounting. The front ones are a bit bigger and simpler in shape, here is photo of one: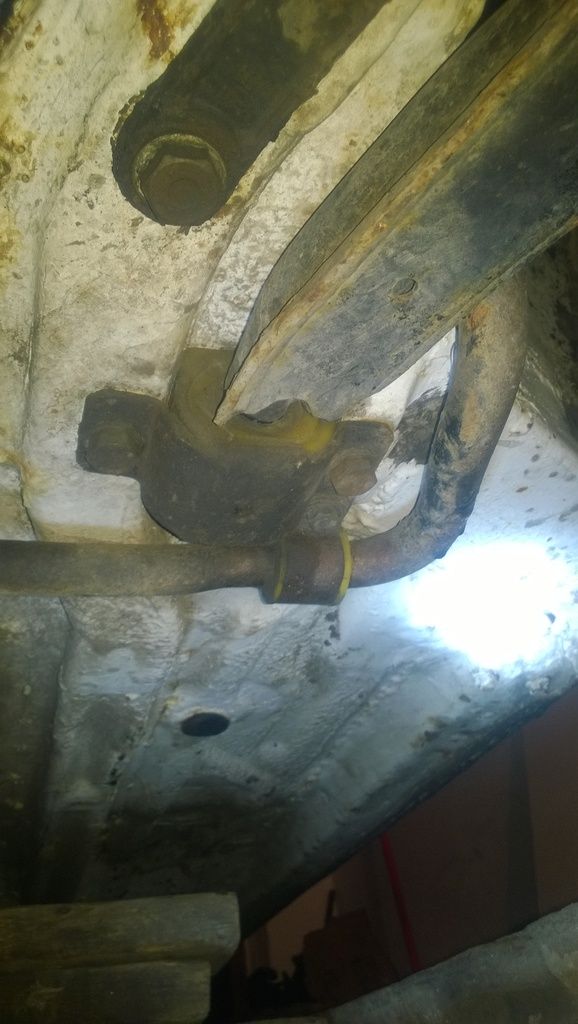 and the rear contol arm bushing for a comaprison:
Additionally, as you can see, front control arms are sometimes coliding with the anti-roll bar (you can see the spot) - why is it so? If I put assymetrical bushings, the control arms would be coliding with the anti roll bar permanently.. Can I put some washers before the front bushing of the front control arms to move the whole control arm a bit to the front? This could improve caster and prevent control arm from hitting the anti roll bar, or at least this is my theory