Come on Suzuk1, don't be shy! Talk up! There must be something going on with this guy? His PayPal account is no doubt locked up. This may be preventing him from refunding the money he owes? He visits the forum on daily basis, perhaps to check in? His communications were excellent up to February, but then things went silent...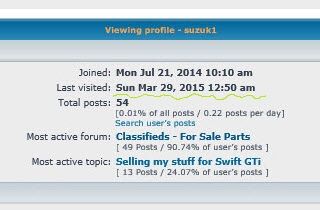 I just want my money back or my parts shipped!
Please, Suzuk1, contact me via email outside this forum.
The email address to contact me at is:
shimaze@gmail.com
We all go thru tough times at some point in our lives. It is how we work thru these times that is important. Please, do the right thing, speak up & make things right!
Thanks, Shimaze
_________________
1993 Suzuki Swift GT DOHC / 5-speed
1996 GEO Metro 1.0 3 cyl. / 5-speed
Other cars & motorcycle:
2001 S10 Xtreme
1996 Impala SS
1994 Camaro Z/28
1988 Honda NX650
1980 Honda PA50
Shimaze's cars