tools needed
Two New Bearing per side Parts Master (PM107DD) @ $9.99 Napa auto
Jack & Jack stands
a Stout Vice
Hammer
Punch (I used 1/2 round stock 6") to pound out bearing
32 MM socket take off axle nut
Pliers remove 2 cotter pins
12mm wrench to remove Brake calliper
17 mm wrench to remove 2 bolts on strut tower & Tie rod end also lug nuts
14 mm wrench to remove lower spindle/ball joint bolt
.
Time: 1hr 15 minute
.
I would be better if a Hydraulic press was used
to press out and in bearing............................ But not necessary
.
.
remove small cap inside wheel
remove cotter pin from axle
remove axle nut (32mm) socket
loosen all 4 lug nut (17mm) socket
.
Jack up car put on stands
.
remove wheel
remove cotter pin Tie rod use hammer to hit side of spindle were tie rod goes through spindle(do not hit tie rod)
remove tie rod bolt (17mm
remove 2 strut bolts (17mm)
remove brake caliper bolts (12mm)
remove lower spindle bolt/ball joint (14mm) after bolt is removed use screw drive to spread apart to lift off ball joint
remove spindle assmbly
.
take assbly to Vice
with 1/2 round stock punch remove the caliper disc / Axle outer spline assmbly by tapping out with punch with hammer
on the outer assmbly in the hole take punch and put between inner spacer and bearing lip tap out bearing
remove that bearing and middle spacer flip over tap out other bearing (back side bearing)
.
put new bearings in freezer to shrink
with the (32mm) socket gently tap in new outer bearing till seat install inner spacer tap in inner bearing with socket
till they are both snug against inner spacer
(Be careful to avoid damage.... only to tap outer ring on bearing's)
re assmble
Torq axle nut to 80lb
.
.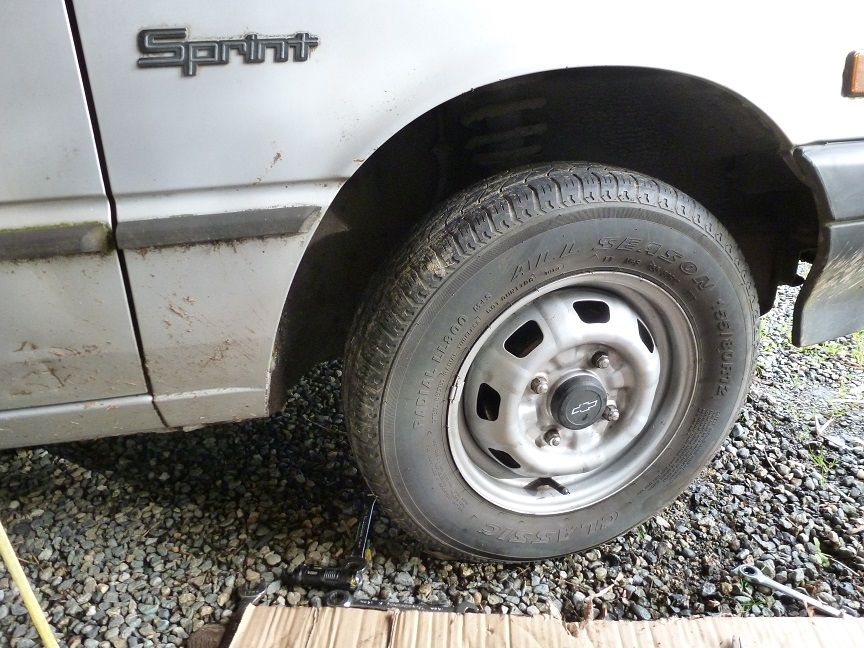 .
.
.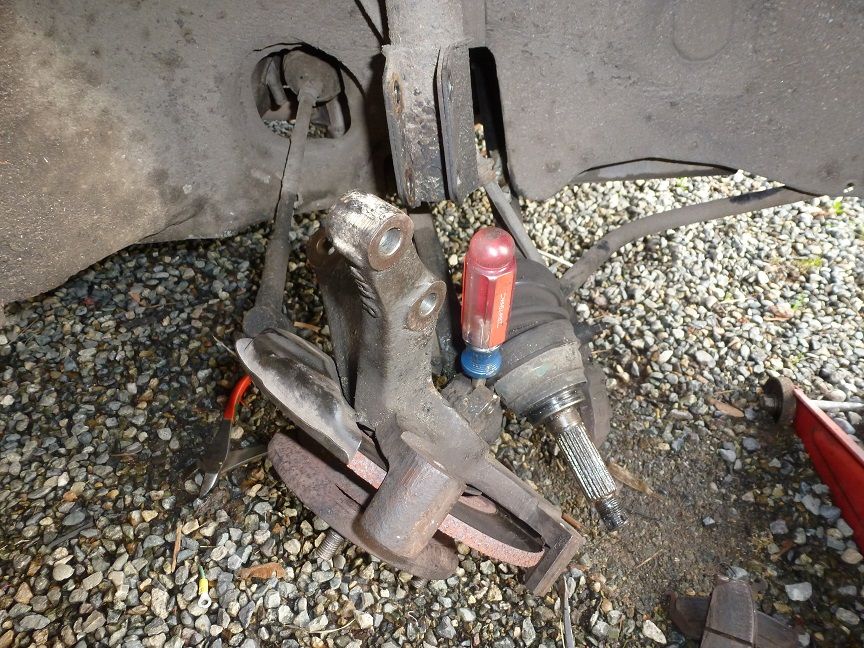 .