This part of my project includes doing away with my crappy headlamp units that are causing poor visibility. I am converting my "Aero Style" molded headlamps with the "Bucket Style" lamps with sealed beams.
"Why replace the aerodynamic lights with the bucket style?"
It's entirely up to the owner. Replacement lamps for my car are well over $100.00 each and I do not plan on dumping that kind of money into the car just yet. I also prefer the older style lamps because they do not get foggy or discolor and are also way cheaper to replace. I may lose some aerodynamics like this, but I would rather have good visibility since the deer around here are cornfed.
This guide will be similar for whatever conversion you decide to do since the steps are all similar.
First off, remove the 2 screws that attach the headlamp unit to the car and carefully pop it out and unplug the connectors..............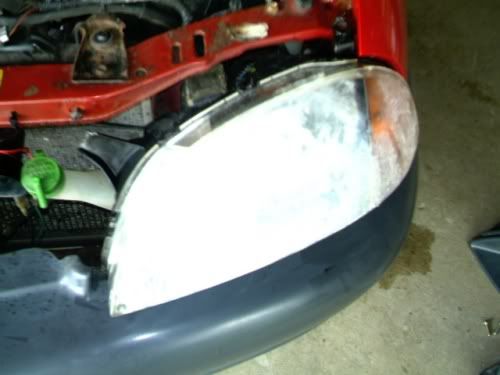 Next step is to wire in the plugs since the sealed beam takes a different plug than the aero type...........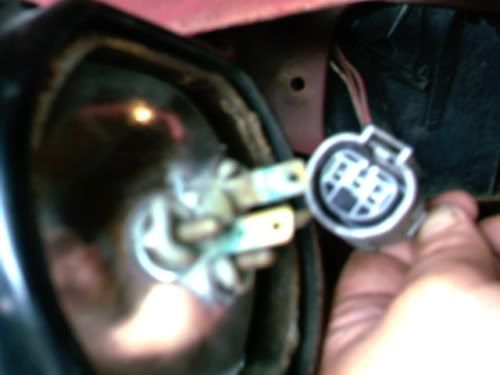 I bought 2 new connectors and spliced them in. It was pretty easy for the headlamps since the center terminal goes to the same location on both. Use a test light to figure out which the other 2 wires are. One is "Hi beam" and the other wire is "Low beam".............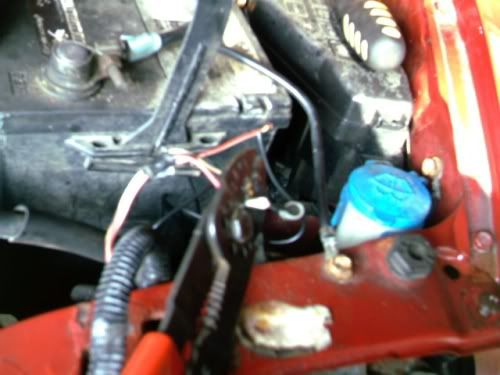 Take your lamp and mount and you will see there are 4 mounting holes already in place. The mounting bolts from a car with bucket lights installed will not work since the holes are too big, so I used bolts and nuts................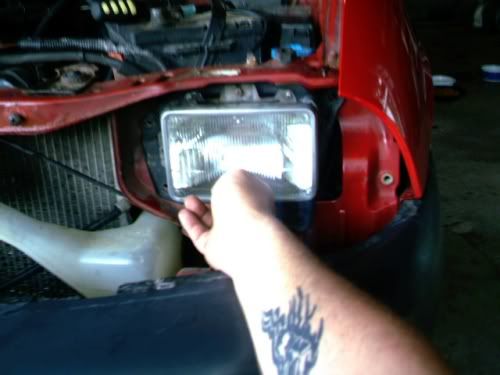 After they are bolted on, simply plug in the side marker lamp into the replacement unit or housing and then mount them on.
Does this car not look 10 times better now.................
Wait a minute! If the older "Bucket Style" lights come from a car with turn signals mounted in the bumper, how will mine work? Well, the lamps I installed behind the grill have a 2 way bulb in them. I simply cut the wires from the turn signal socket and spliced the marker lamps to the dim side and the turn signals on the bright side of the filament. This makes me 100% legal.................
Thanks to RacerX from ecomodder.com for sending out his unused lamps for me!
NOTE:
My old lamps are garbage and not worth anything to anyone. I had to cut the mounting tabs on both units to remove them since the bolts were seized. I then used vice grips to remove the bolts since the Phillips parts stripped out.