Doing a compression test is like a Doctor listening to your heart and lungs with a stethoscope. It's something which is quick and easy to do, and gives a great deal of information about the overall 'health' of your engine.
If you have purchased a used car, and it isn't running that great, or is getting poor mileage...then you should start with a compression test.
The guide above is excellent, and is a great way to do it, however...there are a few 'shortcuts' that a seasoned mechanic will take and rarely mentions.
Consider these two cases: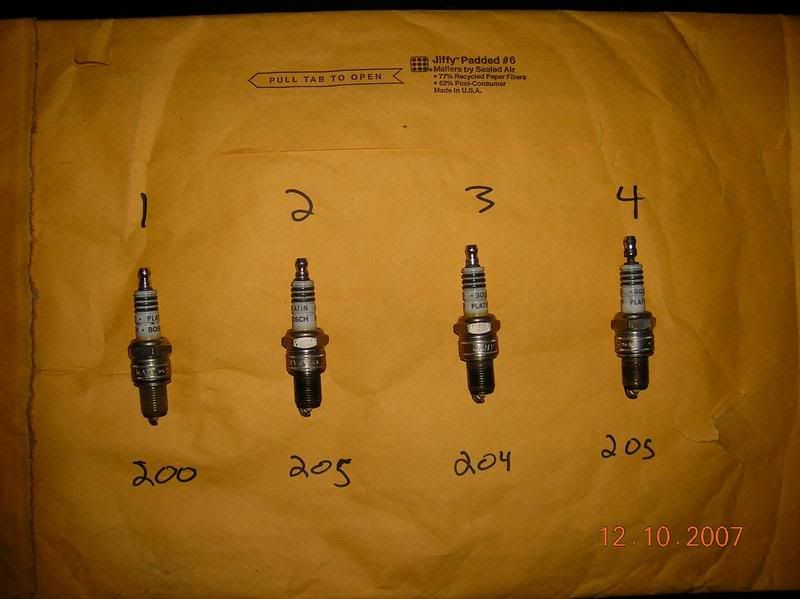 Here, we have a 4 cylinder engine with good compression in all cylinders. You can see the tips of the spark plugs are not fouled. The readings are with a 'dry' test (the first part of the compression test above).
Shortcut #1: No need to do a 'wet' test if you have great numbers on the dry test...
Next, consider this:
Here's one of those $100 cars which has a hard time starting, runs...but you have to floor it to keep it running, and it dies at the stop lights:
Once again, you've done a dry test, but one of the cylinders is WAY BELOW Johnny's 156 limit (above) and two cylinders are right at Johnny's lower limit. This engine is tired...and how.
Shortcut #2: No need to do a 'wet' test if one of your cylinders is 0 or thereabouts and the others are near 150...you'll be pulling that engine apart anyways for a complete refresh/rebuild.
This is something which most people know, but I haven't seen anyone post.
Finally, once you do a compression test:
You will get 'more expert' advice if you post your results as a
picture
like you can see above.
Bring
all
your tools to the table to solve your engine problems...in the 21st century proper use of a digital camera is an essential tool for a competent mechanic wishing to help others...
don't get left behind
.............
simply because you were born in the 1900s.
_________________
DIY Broken Bolt Removal:
viewtopic.php?f=22&t=41042
DIY Clutch Adjustment:
viewtopic.php?f=9&t=48281
DIY Wheel Bearings:
viewtopic.php?f=2&t=29003
DIY Shocks:
viewtopic.php?f=10&t=45483
DIY Wheel Align:
viewtopic.php?f=2&t=42479
Once you get the cars dialed-in (compression, leaks, bearings, alignment, brakes) swap in new rubber and glass, you've got something which should last for years!