.
.
well well well I think I see a familar face
.
Could That be "The Carrott King"? I believe it to be so.!
.
what say you grampa?
.
.
.
.
JohnnyMullet wrote:
[img]
.
.
Well done Mr Mullet
looks like a great time was had by all ...about 30+ "Hooptie's".?
.I was hoping that i might see a series MK1 in the lot but not a one in a crowd of Suzuki badged cars
Must be after 25+ yrs Mother nature that cruel mistress has laid to wast all the Chevy sprint east of the rockies with
her powerful salt spell's
.
Rust in Pieces East coast Chevy sprint /Suzuki Forsa
.
........jv&s
.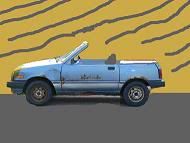 _________________
.
t3 ragtop wrote:
the 3 banger isn't at all a "grenade." it's a tough little son of a bitch doing a big job. respect it.

suprf1y wrote:
I didn't save anything.Vehicles are to me, like little boys are to Tommy.Toys to be abused for my own personal pleasure.
G-Whiz wrote:
I don't let just anyone work on my cars. Like the saying goes, "You don't let another man mess with your wife, so why would you let him mess with your car".