Just got back form the PNTR it was great we had eight cars there.
No MK1's though thats sad......
.
.
I pulled in with my lowly Geo and all i saw were Swift GT/GTI as far as you could see so I parked at the other end as to not devalue the "REAL CAR'S" there.
Then i spied a Mk4 Geo with a whale tale on it from the Geometroforum.net
The man got the long haul award traveled over 300 miles one way....nice.!
.
.
.
paul (swifterthenthou) showed up in his ford it was all good.....
.
I personaly scored big time it was like christmas for jv&s.
Santa AKA knuckles brought me a scand GTI manual on disc a new set of sunglasses and My "sandros chip" for My swift GTI.
Installed by Lithen
You could say
I got a "Teamswift Three way"
bought a chip from Sandro in OT,Canada recieved it within 2 week in Washington State Sent the Chip and socket to Lithen
in Vancover Canada to intalled and Paul (knuckles) brought it to the rally gave it to me .
Man this chip has more miles on it the last few week then I drive all yr and I havn't even Fired it up yet very nice thank you guys
.
We got to meet the new owner of Aarons (Beatswift) white GTI .
How did we know.??........Trailer hitch
.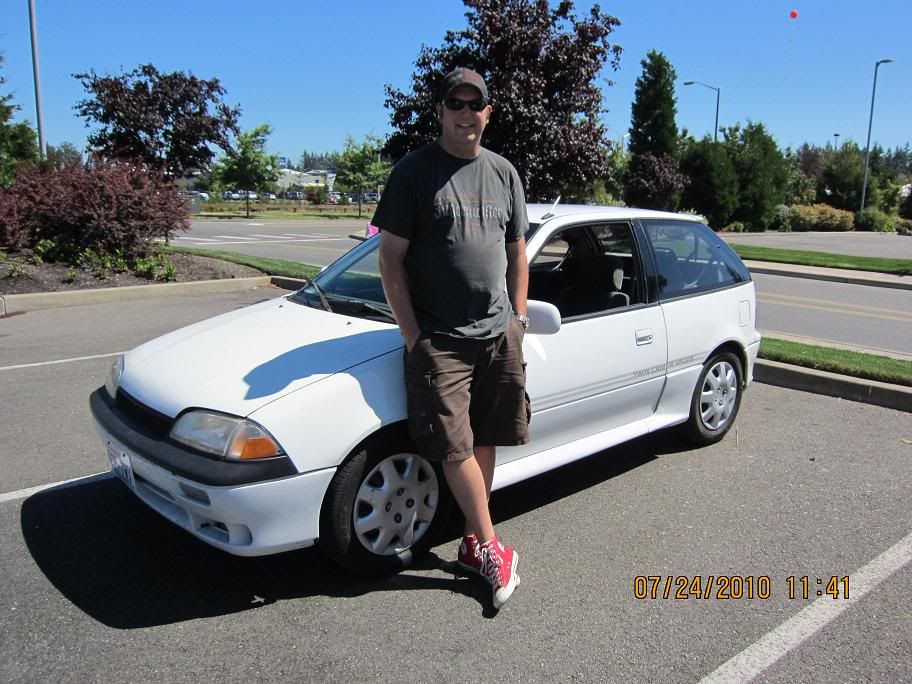 .
.
looked like a good foundation to build on solid ..
I told the finance committe ( the wife) that was the car I was triing to buy She gave me the flat tire award PppIIiiSsssTttt...
It Ran Amazing
.
.
.
.
a guy brought a nice Black GT to the rally It looked weired at first I said the timming belt is on the wrong side (not seeing the Honda valve cover someone (the Wife) said it on the wrong side because it's canadian then they informed me it's a honda ...Doah.!
We were takin back by it but after we put down the torches and pitch forks we started to listen to all the hard work and time and money he spent it was inspiring yes a honda
with a TURBO . he told us about doing 12.83 at the track It had a hudge turbo form a mitubishu..BIG.!
.
Knuckles Jr ask for a ride we were to old and feeble .....
the look on Jr face when he got back was priceless permanent grin that car was fast I thought Jr would poop himself
but when he got out we smelled no fecal mater good job JR......
and hats off to the SWIFT GT/Honda builder (sorry i forgot your name) but I will not forget your car or the look on jr face after that ride .! it was fast and thats no joke 300 HP in a 2000lb car fast.!
.
.
Joey's new ride...The cleanest car by a mile
.
.
.
.as we went ever to the mall to push food into our pie holes when we got back to our cars we saw G-whiz had found us
so we visited and then plit
.
.
.
I thought it was nice and wife (the Finance committee) agreed ..........next year I'm definetly bring a swift
.
Thank guy had a great time and have a safe trip home
.
.
.JV&S
.
.
.
.
.