Fal's been driving his '88 for a year since he bought an MCS from me.
His compression numbers were low, so I thought he could use a rebuild.
Decided he could use a little traveling medicine man help as he was a bit mechanically challenged on the MK1s.
Threw some tools and spare parts in the back of the old 4 door with 3.79 gears. Yeah, I pulled the front right seat as I had a LOT of parts to bring back from another unnamed Teamswift member.
(Why does the spell checker go crazy when you type 'Teamswift'?)
and headed up to Oregon to meet him.
It was a bit longer than a one hour drive. No wait...it was a 2 day drive. Yep. 500 miles a day...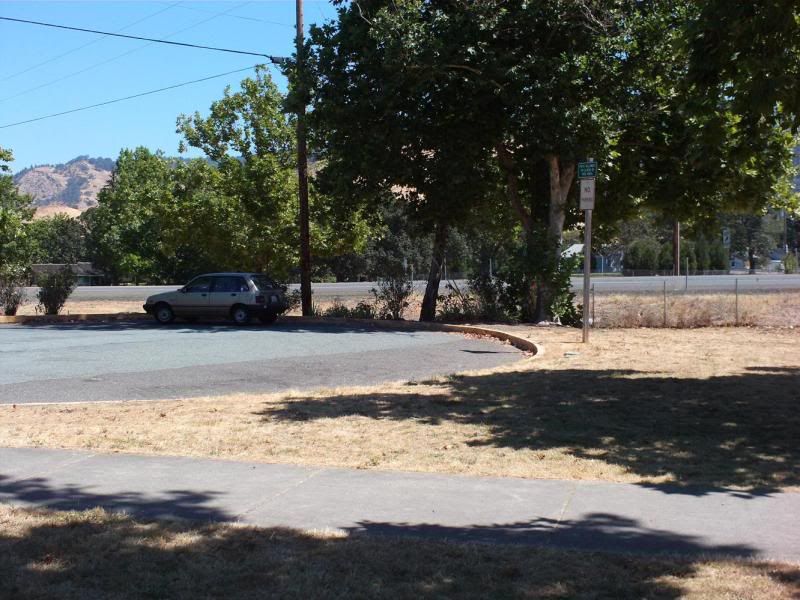 thus the car had to rest in the rest stops for a few hours while I slept.
So, finally met the bugger.
He told me we would be working at his place, up a twisty dirt road high up in the mountains where the wind whips through at 30 mph all the time. So scare me.
Told him no problem and met up with him at the local Denny's Restaurant.
Next we went to see his supposedly lousy car. Huh?
It ran fine, but only got 35 mpg. Lift the hood, she smelled like a leaky gasoline station.
Looked at the float level-waxed to the max. There was no 'level'. Poor carb was dumping in gas for the past year.
Life is funny.
I expected to be crawling around on my back in the gravel like I was a kid again. Instead, the local (can't mention it) shop volunteered their work bays, complete with $25K Mohawk lift for the weekend. We had a couple of days, so we needed to make good use of them.
Here's the car
she looked a lot better than I thought.
Inside, nothing unusual; all the parts were there:
I figured I wouldn't get a good look at it through rested eyes for a while, so I snapped this:
and because of the backlighting, I snapped this: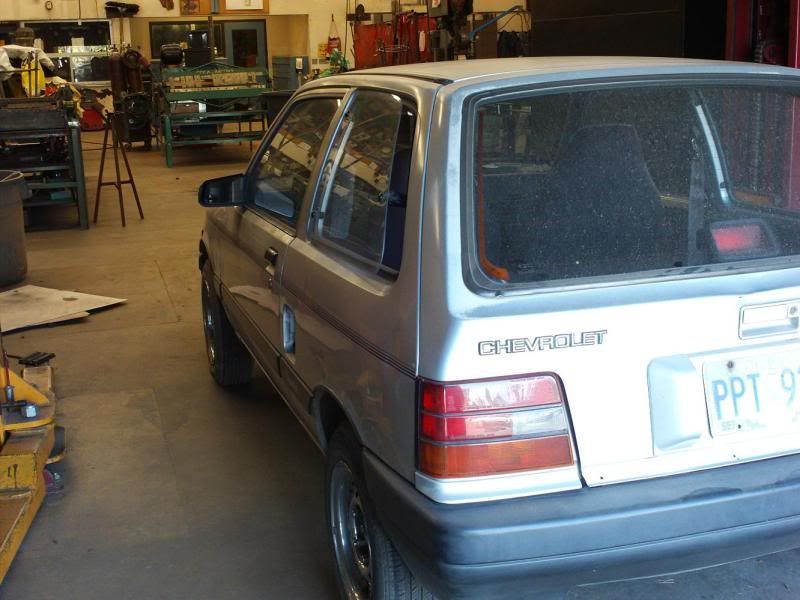 because who knows, it might never run again!
So we started to tear it apart, neither of us knowing what to do next...it went along slowly and surely. And we got this far: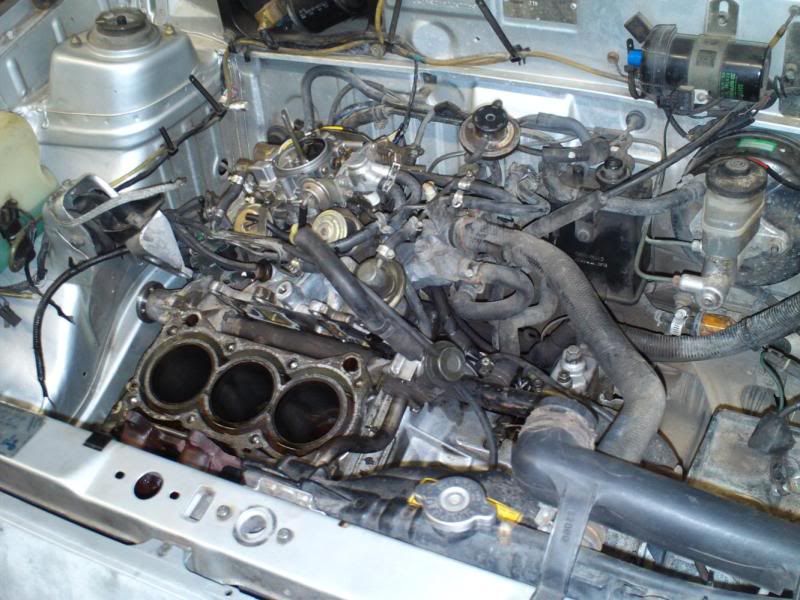 but wait...let's take a closer look: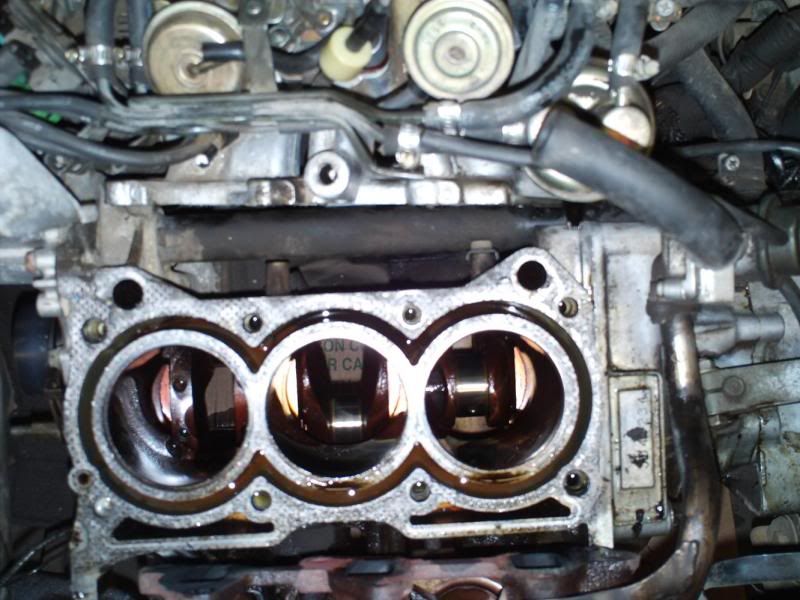 yes the pistons were out.
The oil pan and valve cover were sent out to the local machine shop. Those guys were pissed because he bought a performance head from Suprf1y instead of having them do the work.
So they screwed him on the hot tank. I think they just put it in hot water. Damn thing came back with the old valve cover gasket still on it. Not sure what they were thinking. That's my story and I'm sticking to it.
End of work on Friday.
Saturday was a fun filled day of cleaning and more cleaning.
We got the carburetor off:
and set up on a bench.
You can read my 'how to set your float level' DIY carb repair thread somewhere in here. Old Fal and another buddy of his, Ed...they helped me set the floats. I actually never looked at the sight glass, instead relying on them for a good level. Guess it turned out OK because they had some pretty big smiles after the third adjustment.
Fal wouldn't let me take his picture. I think it's the Feds or something like that. Might be some hot chick looking for him; whatever. So don't tell him about this picture of him checking the ring end gap before we put the piston rings back on:
Working til about 3 am late Saturday night, and the bottom end was back into the car. Fal had a few questions along the way and I pretended to answer as I went along. Not sure how tight those connecting rod bolts got torqued...maybe 12 pounds? 14? Torque values are here on the site, but we didn't bother with internet access, even though he cleverly had it available in the office (ssssshhhhhh!!!)
As Saturday was closing, we stepped back and took a good look at the progress:
That's about it for Saturday.
Now we come to Sunday.
Ole Fal is getting nervous.
We don't have the engine very near to completion.
-no head
-no intake
-no exhaust manifold
-carb on the bench....
Why, he's got to get everything out of there by the next day!
And it was such a lovely day outside: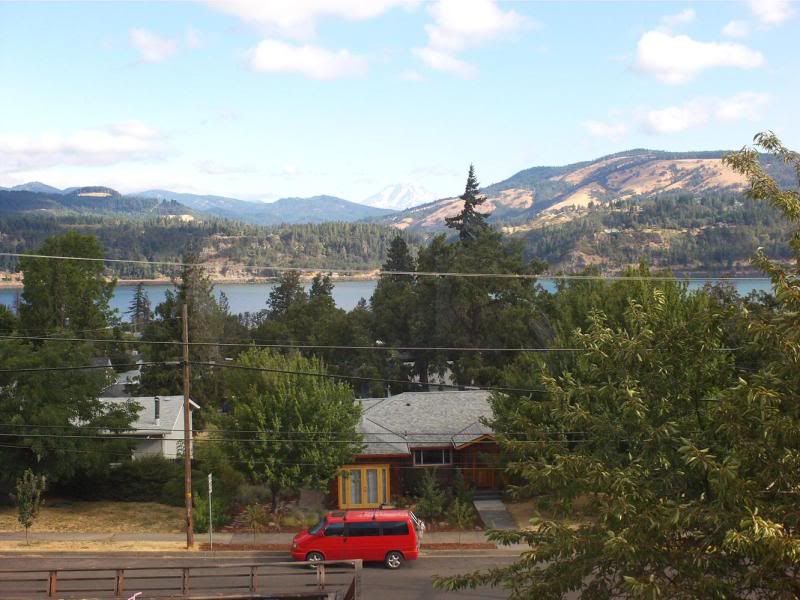 You could even see Mt. Hood out in the background!
To work or not to work?
So Sunday we decided to look under the hood and see if anything was missing.
Sure enough, there was this little piece:
Some yahoo in Canada had sent him a head, so we tried to fit it in.
Then we torqued it, adjusted the valves, installed all the rest of the gobbledy gook, and it ended up looking like this around 5 pm: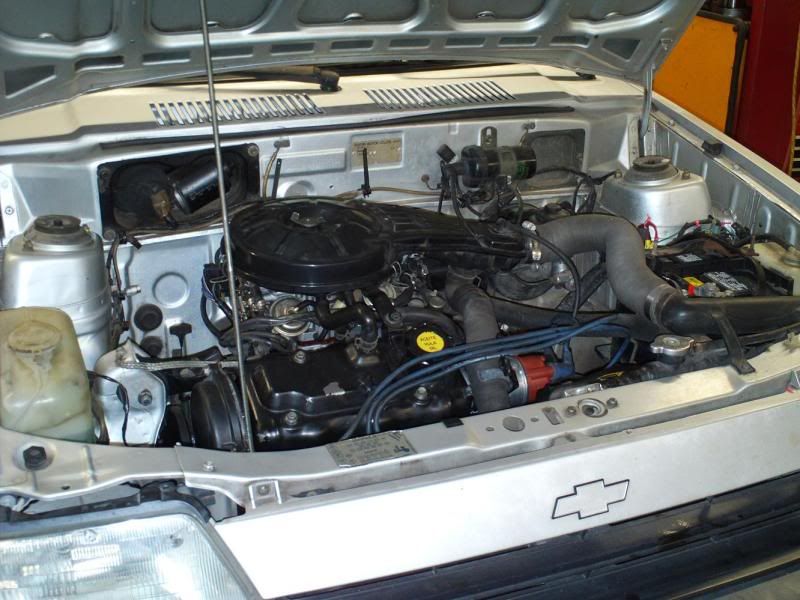 Like idiots, we had used a real thin coat of Ultra Gray on the pan and valve cover gaskets.
So we decided to head out to the local restaurant for a steak dinner and let that goop set up.
Then we came back, put in some dinosaur oil and some coolant and she fired up.
Adjusted the idle and that was that.
Ole Fal used to be a little challenged, but now he's our Teamswift MK1 guru. He knows more about them than...well.
Next he had to put a muffler on it, so we'll see if he's still alive and can add a bit to the tiny little bit that I wrote here.
Oh yeah, after it was running on its own, I picked up my tools and drove a couple days home to rest.
Engine temp is running a bit hot, so he'll either have to check the coolant level or blow $100 on a new radiator to protect his investment. Sure hope that head gasket holds. It was a Fel Pro, but had a few rust spots on it.
That's life.