Got a couple things weighed out so far.
Spare jack and associated bits: 4 lbs 8.4 oz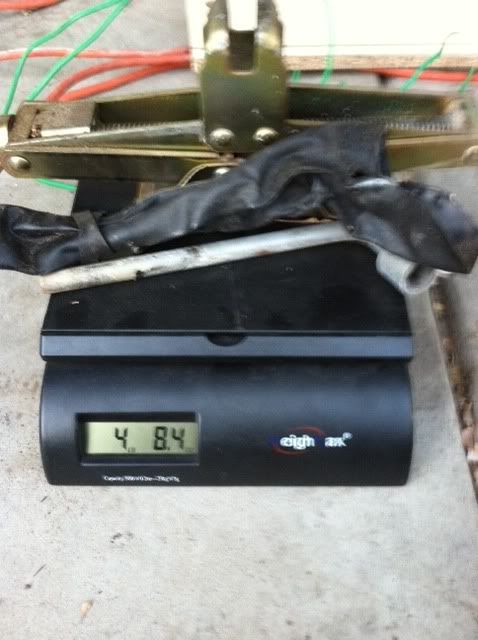 Front seat and rails: 28 lbs 0.8 oz (to be fair, the seat is torn and missing a good bit of stuffing)
I don't have a pic, but I think the spare 12" wheel/tire weighed just under 24 lbs or so. Maybe Kinch can remind me.
The plan for this car is to build it to Street Prepared specs for SCCA Solo racing (autocross).
Long story short: suspension, full interior (race seats, short shifter, aftermarket steering wheel, harness, cage [optional]), stock engine/turbo but with header/intake/exhaust/tune, Rcompound tires, LSD (hopefully), etc. We're allowed to update/backdate with any parts that were available on any USDM sprint from 1985-1988. We ideally want to find an 85 or 86 base model as you would think those are the lightest. However, being as they had leaf springs in the rear, we're afraid that won't work with what we plan for the rears in the future. Unless the rear suspensions (coil vs leaf) had the exact same mounting points. Can anyone tell us if the answer is yes or no?
So at this point, the safe bet seems to be finding an '87 base model (should weigh less than the turbo) and then drop in the turbo3. I'm thinking a lot of that weight savings will be from the lack of trim pieces, center console, passenger mirror, cruise control, A/C, etc. It won't look as cool but it will be faster!
Expecting close to half a foot of snow tonight so might not get to much in the next few days. Hopefully Kinch can get it emissioned so we can take it to the truck stop and run it up on the scales for an initial weigh in.
A lot of the cars we'll be running against in FSP are around 150-200 lbs below stock curb weight. Not expecting to lose that much on an already barebones car but hoping we can find 100 lbs or so to shed. Things like a lightweight race battery should net us 15 lbs or so at least right off the bat. Also thinking about swapping in the smaller gas tank from the 85-86. Lightweight exhaust, race seats too. However, minimum weights for the seats and hardware is 25lbs. Seems like the stock seats are pretty close to that already. But a race seat in the drivers side should at least allow us to lose those 3 lbs while letting us sit lower and dropping the CG a bit. We'll actually be gaining weight in the wheel/tire department as 13" Hoosiers are a bit heavier than the skinny stock 12's!
We'll try to keep this thread going fairly often. Both Kinch and I have other competitive cars to autocross for the upcoming season so this build isn't going to be a rush job.
Feel free to ask questions and offer up thoughts!
Van