Thanks for the shout out, Uncle Mike.
This is the land of $3.50 a gallon gasoline, so I'm sitting right pretty at the pump these days.
Last year some guys asked me to rebuild some Hitachi carbs and I flat turned them down.
You have to have a dedicated space to do it right, and I didn't have the space.
I've been gradually making space to rebuild some carbs.
Unlike one Teamswift member, I don't claim that I will rebuild them BETTER than original.
Hopefully, I'll try and get them back to original.
We'll see if there is any interest.
It will be even more interesting to see the cores these clowns have.
Unlike one Teamswift member, when I do promise that I will rebuild a carb, the person won't have to wait ONE YEAR or more for the carburetor.
Yes, I've seen it recently.
A man has to realize his limitations.
I don't do 'magic' with carburetors, but I try to build serviceable units.
I ALMOST had a box ready for New Zealand with some nice gifts in it for some well deserving people when Mama's phone died. When Mama's phone dies, wow.
Lessons learned.
In the future, I will learn to power reset the puppy ASAP.
She went ONE DAY with a temporary phone and it was a little dicey.
Except now she's grown attached to the 7" phablet that I had earmarked as a surprise for one special wife of a Teamswift member.
Damn.
So the box is back on hold.
I think pretty highly of some Teamswift members, as you can tell.
...
There's a few looking for help with these carburetors.
Newbies who want to talk when they should be listening.
You try to help and they are 3 steps ahead of you: "What does that have to do with it, blah blah blah".
The way I was raised, when someone tries to help you,
it is best to be polite, listen and learn
.
It is too easy to sit back and watch these clowns waste their hard earned dollars trying things they're SURE will be cheaper, faster, and easier than fixing it right the first time.
"I pulled the oxygen sensor...blah blah blah"
"I pulled the EGR...blah blah blah"
"I pulled the sensors...blah blah blah"
And the funny thing?
I've seen pictures of their work
and they actually do nice work
.
But they're still in 'I can beat the system' mode.
Once they get into the 'OK, I'll at least TRY to put it back to stock' mode, they're in for a pleasant surprise.
To all you clowns reading this, time for a reality check.
I drive my MK1 carb unit with
no problems
in the Southwestern desert, using the A/C and the car gets me where I want to go - like Uncle Mike says - for a fraction of what the other guy is paying. And I pay more for a gallon of gas than you.
But I took the time to study the manual
(which is posted here by more than one individual -FREE FREE FREE)
and knew in advance that
the ideal fuel/air ratio
is what we're after...NOT best gas mileage, NOT fastest acceleration.
There's a middle ground which gives ideal combustion and doesn't burn valves.
Don't believe me? Just WATCH!!!
I did a google search for air fuel ratio images and this popped up first: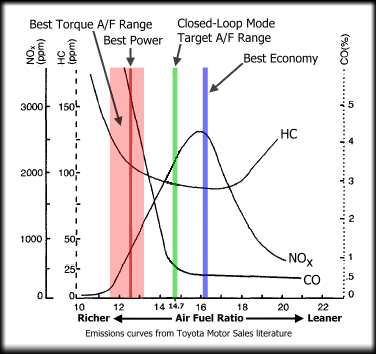 This is a chart which is at least 30 years old, so don't dwell on the 'Toyota' label.
They stole it from somebody else.
I learned it when I got my first Smog Tech License when everyone else was pulling all that smog sh*T.
Any mechanic (or Auto Tech, if that chokes your chicken)
worth his salt
knows it by heart.
Backwards and forwards.
You can easily see the two areas where people make a mistake.
First - The red area - they tune if for power baby, power. This ends up overwhelming your cat and wasting fuel, but gives you great acceleration in the short run.
For a track car, not a problem. You're not interested in long life, so rich, baby, rich!!!
Two - The blue area - I read it all the time: "I get GREAT gas mileage!!!" (Meant to show you that they know better than you.)
What they don't tell you is when the Summer hits, and the car is tooling down the highway in sweltering heat...poof...there goes an exhaust valve.
Why? LEAN baby, LEAN. LEAN = too hot.
What does the MK1 have to beat the LEAN/hot problem?
EGR.
You pulled/disabled the EGR? Only an idiot would do that!
Your exhaust valves with last a lot longer if that system is healthy.
Still these clowns continue to try and beat the system.
Learn your lessons.
Keep it in the green.
(See the thin green line in the chart above.)
Engineers had this chart
when the cars were built
and installed all the sensors necessary to keep the combustion temperatures within certain limits so that the car would last and last and last.
Green = 14.7
You see T3 ragtop build his monster engines?
He's after the GREEN zone.
POW!
The MK1 also has a unique system to clean the cat.
The
second air valve system
is extremely useful and when working will ensure your tailpipe blows almost pure H20 and CO2.
If you can build an engine, why not build the best of the best?
It isn't that hard with these Suzuki!
But enough of the lessons for the hard headed clowns....
...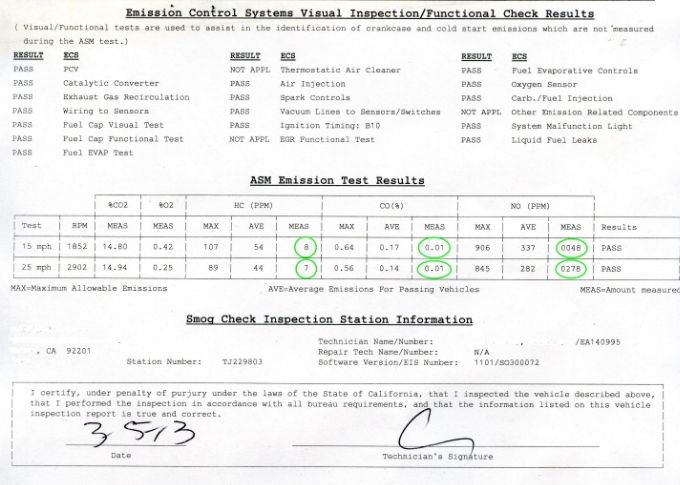 This site has been a tremendous help to us financially and socially.
We've learned the ins and outs of the Suzuki automobiles and acquired a dozen in the process.
Every car was destined for the junkyard, but we figured they were worth fixing.
The DOHC's are excellent - I had to stop driving ours before I got a ticket!
The turbos piss off all the expensive fast cars because they can't get away.
I've met some pretty decent people, and some real clowns on this site.
We barely were able to keep the old MK1 running and not burn exhaust valves until joining this site.
Now, we spend so little on transportation it is sick.
I've driven 1,000 miles to help a total stranger with his MK1 carb unit and we ended up rebuilding his complete engine in 3 days.
A couple of years later I drove back because he was having a problem with his carburetor that the local mechanic couldn't diagnose.
It turned out to be some burrs on the float shaft.
The guy easily understood the problem once I pulled the top off and showed him.
He was a gun smith and understood the 'trigger' analogy.
BTW. he simply LOVES his Mike's cam and that car is very fast.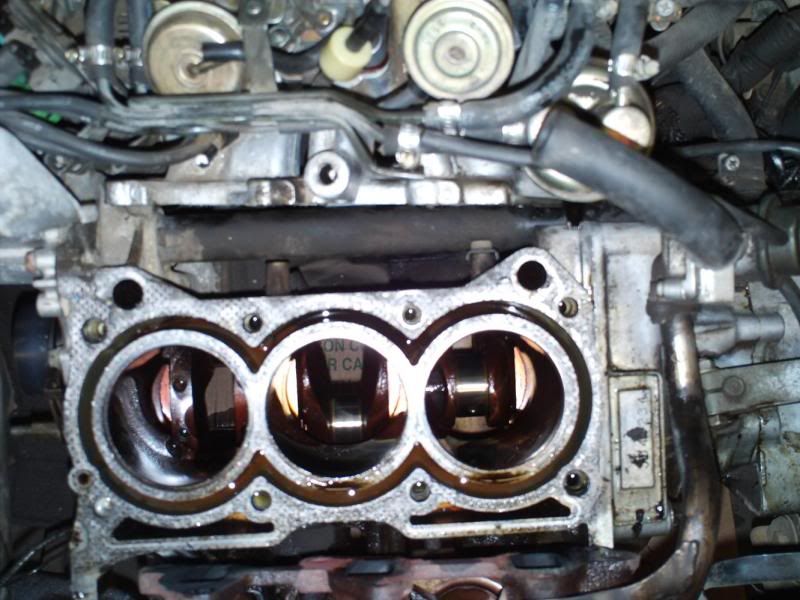 ...
If it seems a little slow these days it is because people are asking for help and getting it via pm.
At least those willing to listen.
Someone who gets arrogant, or loses their patience with me?
They can either apologize and learn to listen or go somewhere else.
I'm happy to help those willing to be helped.
But if they have a bad attitude, I don't get in their face.
I back off and let them decide if they want help or want to fight.
This week some clown who can't spell the name of one of the greatest States in the Union complained he put a rebuilt carb on his car and now he can't get it to run right.
Kinda stupid.
We're here to help.
Dude - you post pictures of your newly purchased rebuilt carburetor, your engine and what you are doing.
Then everyone can chime in and help you set it up.
Instead, he posts some vague symptoms like an old woman at the Doctor's office.
Well cowboy.
Teamswift is full of car doctors who know these cars inside and out.
You want help?
All you have to do is follow our simple instructions.
To date our newbie clown hasn't posted the video that I asked for.
Basically, it is probably some old woman who is trolling for a husband.
You want help with your MK1?
I don't fix phantom cars with phantom symptoms.
Post your video or go play with yourself in the closet.
Ha!
Back to Uncle Mike's shout out:
Things are going great out here, and just as we ask those who want our help to be patient, listen and learn...so I have to take my own advice and work slowly and carefully as I build a pretty decent little piece of property on the other end of town.
It will have a decent sized shop that any Teamswift member would be proud to visit and we are getting some strong community support as we gradually make the place habitable.
How were we able to come up with the CASH to buy the place?
Duh.
We got our money OUT of the cars we built.
And we've got plenty more with parts to back up what we already drive.
Basically, we spend money on filters and (gasp) Mobil One full synthetic, registration and insurance.
No car payments, and no stupid car leases.
That gives us $$$ to invest in houses.
And we bought a helluva house, let me tell you.
But better Uncle Mike gives us an update on his vacation home.
He's quite the capable construction fellow, if he ever shares his pictures.
That man can build!
C'mon Uncle Mike.
Show us the latest.
I'm guessing these new clowns will understand us better if they see what you are doing with your spare money now that you got your 4 door under control and you are building the super commuter Turbo that they can only dream of!
To the rest of you Teamswift members:
Watch out for the latest round of MK1 members who are trying to pull the wool over your eyes.
They say they have a car to fix, but don't produce even a picture of it.
I would advise you not to waste your time helping them.
They're just wasting your time as they try to rewrite the factory service manual.
But man oh man, just take a look at their FACEBOOK or Photobucket page.
They can post pictures when they want to, and want to be your friend, but there's no equality in their book.
So I don't see any validity to any of their arguments.
That goes for the 3 members here who haven't posted in this thread as well.
You clowns are so smart?
Show us what you've got so we can agree with you.
Otherwise, put up and shut up.
You're not my friend so don't pretend.
Or else come up to our level and post pictures like everyone else.
This is a site with competent members - join it!
(click for video, hope your speakers are working!)
The MK1 is an OBD I vehicle.
Where I live mine goes through a 5 gas analysis at a State Certified Station.
I even post what the tail pipe blows!!!
These clowns who supposedly know better have never posted a single smog slip.
I'd bet they don't even own an CO tester.
If you want to build a track car which runs rich - I get it.
But who builds an MK1 carb version to race?
Turbo, yes.
So watch out for these new carb fellows who rip off all the 'smog sh*t' because that's what they learned from their great grandfather's uncle's brother.
It won't run right.
The factory set up is good enough.
Put it all back to stock, and get something else to race around town and impress your girlfriend.
Once she gets pregnant, you'll be glad you did.