---
Temperatures are hot. As in record breaking hot. Palm Springs hit 122F over the weekend which broke the former high of 120F set in 1970.
People who have not experienced this kind of heat often point out humidity figures.
A Father and Son, hiking in this heat last week, were found expired, victims of the heat, so if you visit, try and confine physical exertion to early morning or late evening. Trust me, you don't know any heat like this. It is a

killer

- people AND cars.

Therefore, it was time to concentrate on the vehicle's cooling system. A tiny leak, left unmonitored, will strand you if you aren't careful.
It had a persnickety leak, visible by a decreasing level in the overflow tank, and some coolant on the top of the radiator last year.
Changing the timing belt, water pump, tensioner, and front main seal...and one of the leaks was fixed. (Water pump had a seep.)
But the radiator, that was a two pronged approach.
I picked up 4 new radiators on line, and installed one. Still, it had a little leak on the top of the filler neck.
So $7 and a new radiator cap later, and all is well.
Overflow tank holds steady as a rock, but here's another thing to watch out for:
The tube which runs down into the overflow tank from the cap can get soft when you have high outside temperatures.
I pulled the overflow cap, and the hose remained in the tank.
That's bad because you can lose your suction.
So make sure that tube is connected firmly to your overflow cap.

The new radiator made a slight but improved difference in the reading of the temperature gauge. You cannot hear the radiator fan going at speed because of the noise of the air past the windows, but it is easy to figure out that the fan kicks in at about 1/2 way up the gauge.
Previously, the gauge would creep up to the half way point on the freeway at 70 mph, the fan would kick in, and then the gauge would drop to about 1/4.
Thus, it was time to roll up the old sleeves and give the radiator fan a break. After all, it is 30 years old!
Here we go:

First, the new radiator -


It is a APDI 8011256 and has a transmission cooler for an automatic transmission if the car is so equipped.
Rather than run it open, I connected the two cooler ends with an old piece of tubing, as you can see above.

Now on to the radiator fan -

1- When you remove the shroud, you will also remove the fan and electric motor. By removing the plastic fan, you get to see this: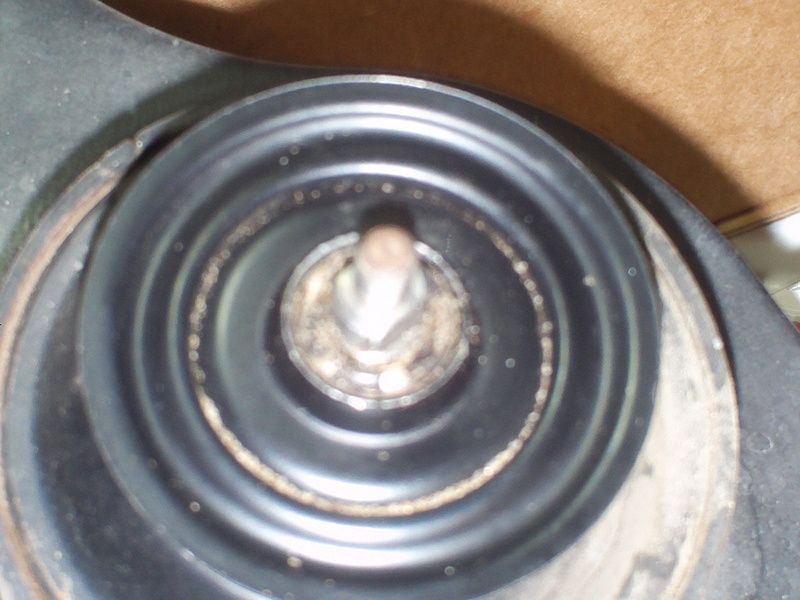 the stem of the electric motor, needing a quick toothbrush to remove all the sand.
Doing so will get you to this step

2- Exposing the circular clip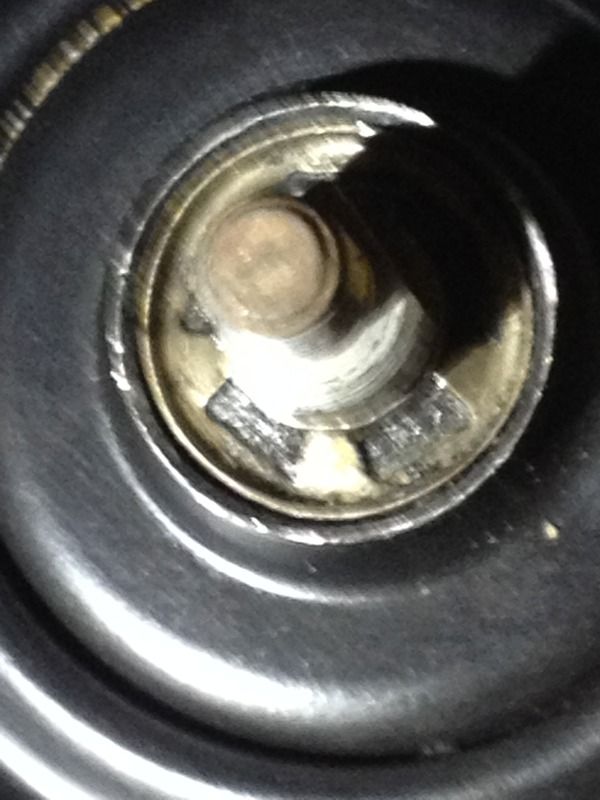 This piece needs to be carefully pried up so you can remove a small plastic washer underneath.
Apply full synthetic grease, replace the washer, circular clip, slide on clip (not shown), fan and fastening nut and you are done with one side.

3- Oiling the rear of the fan
There is a circular cap on the back of the radiator fan motor. You carefully pry it off and this is what you see:


You can see the cap - it is placed to the left in the picture, and has no evidence of 'mechanics removal torture'...ha!
I used a 3/4" Craftsman end wrench, turned sideways to pry it off, a little at a time, working my way around the diameter and it came off no problem.
You put a few drops of high grade oil - I used some Mobil 1 full synthetic left inside an old quart jug - and then you can button it up.
The felt absorbs the oil, and will lubricate the shaft for quite some time. Indeed, the shaft was fairly well oiled when I removed the cap.

That's how you lube an MK1 radiator fan...or at least how I do it. Somewhere there's a more detailed version by Phil N Ed, but this shortened version probably gets you a few more miles on an already old fan.

Bottom line?
Vehicle doesn't overheat even at high speeds during the heat of the day (it didn't before), and fan comes on much less than previously, saving wear and tear all the way around. I found that slowing down to 65 mph will allow the radiator to do its job without the fan coming on at all during hot afternoon commutes.

Heat is the main enemy of any engine. You've got to keep them within factory specs if you want your car to run a long time.
Our Suzuki products don't really have a problem functioning in the heat, but you have to make sure everything is right: hose connections, radiator, thermostat, water pump, O-rings, coolant. Once you've got it right, then you can pretty much forget it for a few months, only looking at the overflow, and watching the temperature gauge now and then. But once the car is running right, you certainly want to make sure it cools properly for reliability reasons.

Now that it stays pretty cool inside the engine, it is time work on the interior (sounds & A/C), because it is nice to travel listening to something besides the wind in your ear, and arrive at your destination as cool as a cucumber.