It has come time for me to part with my very first car, a 1991 Chevy Sprint Turbo. It's a bittersweet moment, but circumstances change, and I'll be moving to an apartment soon, and only have room for 1 car. It has been in my family for about 12 years, and I've owned it for about 8 years. The car started life naturally aspirated, but was swapped with a fully rebuilt turbo engine 2 years ago.
Picture from a summertime track day. As a club organizer, I get to do lunch time runs, so I took the Sprint out for a few leisurely laps. Now I can say it's a real race car!
Sorry about all the snow, we had a surprise snowfall here today. It is currently on snows in the front, will have all 4 Honda ITR wheels mounted for the sale.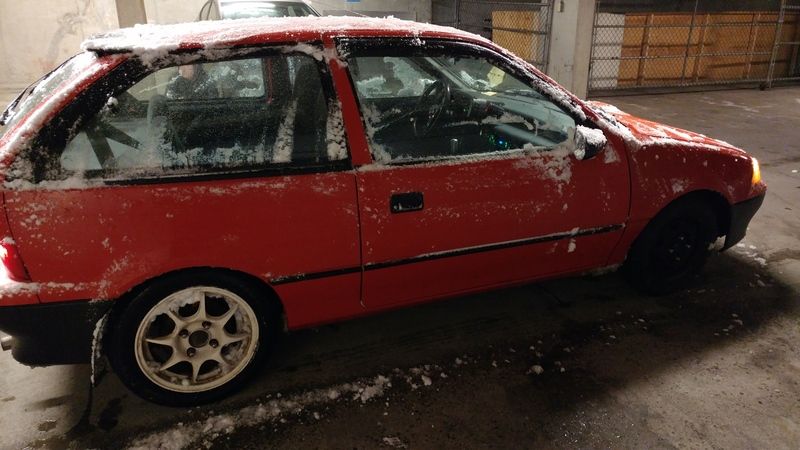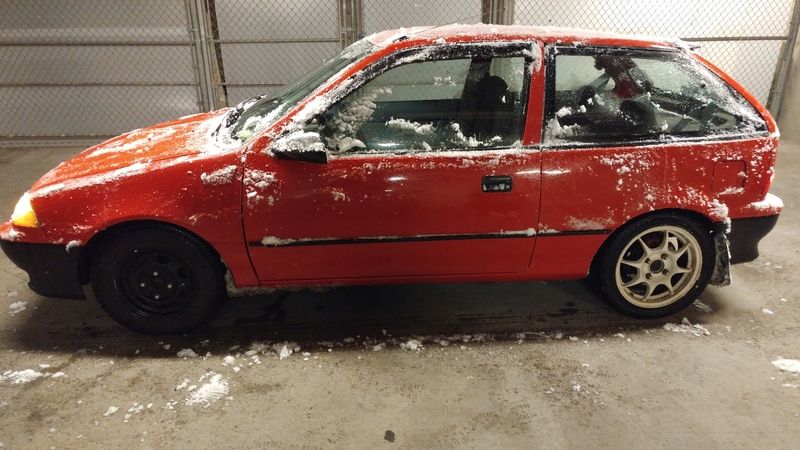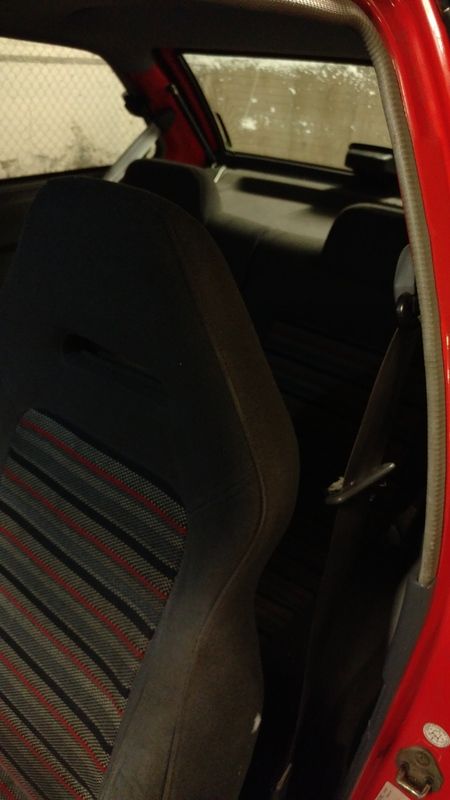 The car is in good overall shape, regular dings for a car this old. No rust. It was repainted at some point in it's life before it was owned by my family, so the paint is in decent shape. The front fenders were replaced and poorly painted by me when I was younger, they could use a respray.
288xxx km on the body, and ~31xxx km on the engine. Km going up as I drive it daily.
Modifications:
- 3Tech 218/350 camshaft
- 3Tech +6 cam gear
- Stiff springs
- Polyurethane suspension bushings
- 2" exhaust from the downpipe back
- 2 point front subframe brace
- Fuel filter relocation to engine bay
- Polyurethane filled rear motor mount
- Polyurethane filled shifter pivot bushing
- Extended shifter
- Honda Integra Type R wheels
- Honda CRX front brake calipers
- Kenwood USB/AUX stereo headunit
Recent Maintenance:
- Turbo rebuilt around 286xxx km
- Oil change 288xxx km
- PCV change 283xxx km
- Fuel filler hose replaced (OEM Suzuki part) 288xxx km
- Master cylinder replaced/brakes bled 287xxx km
- Transmission fluid 283xxx km
- Inner and outer passenger tie rods 288xxx km
The car drives great, it has been getting me to and from school for the past 2 years, as well as work on the weekends. Due to the camshaft, it does idle a little rougher than stock, but the power difference has definitely made it worthwhile. I am including my entire collection of spare parts in the sale, I won't have any use for them once the car is gone. I am not willing to part out at this time.
Spare Parts List:
- Intercooler and seal
- Distributor
- Starter
- Alternator
- Ignitor
- Fuse box
- Misc plugs/switches/small electrical components
- 2x factory camshafts/camgears
- Driver/Passenger drive shafts
- Transmission
- Turbo engine (including manifolds, etc)
- Various turbo bits/housings/etc
- Mitsubishi DSM Blow Off Valve
- Grant steering wheel adapter with Nardi/Momo/OMP/etc extension
- American Racing 5 spoke 13 inch wheels
- Front window regulators/glass
- Various trim seals
- Probably more that I'm forgetting
I'm asking 3000$, this includes all the parts mentioned above. I believe that to be a very fair price for what you're getting. Please email me if you're interested, as I don't always check my messages here.
Email:
manousiadis@gmail.com