SA310 wrote:
I understand it. I can post pics, but that was faster way to do it.
Main problem is that, 90% parts are 89-up. So i am thinking if some parts may fit earlier model, with little modification.
In finland we don't have parts to this car. But 07-up you find allmoust everything you want.
I have few pics my album. And i am going to put more pics.
Back to that manifold guestion. I have parts to manifold(pipes, collector, etc). I just have to put them together, that all. But it is simplier to buy it.
And those carb guestions. I am going to try that DCOE carb and also those bike carbs. But one at the time. When i have tried, i post some results if you want.
Place where i am studying(welding
), there is CNC machine also. So i can fabrigate some underdrive pulleys, if i want.
And some intake/exhaust manifolds. Now i doing strut brace.
Do you understand me now
I am sorry if i ask too much
I stand corrected. You do know how to post pictures to your album.
Very good.
Now, you need to learn how to put a picture into a thread.
Do you understand me?
Let me show you again.
Here is your engine compartment:
This is my engine compartment:
Now it is easy to see that your car has no altitude sensor or EGR modulator, but it does seem to have the passage through the head. There is no need for you to click on a 'link' to get the photo. It is right before your eyes, eh?
Also, your car has no A/C (no need in Finland) and no automatic transmission. Can you see the automatic transmission in the lower photo? How about the altitude sensor? It's probable that you have an Aisin carburetor, not a Hitachi. Can you guess why I said that? (Hint: no altitude or engine compartment sensors)...and do you see the differences in brakes? Very easy to do when you POST the pictures one on top of the other!
Later, if you want to be clever, you can add video:
which will be helpful if you have problems with your assembly and the car doesn't run right.
It may be easier for you
to post a link to a picture, but if you want help, you need to learn to do part of the work yourself. People who want to help you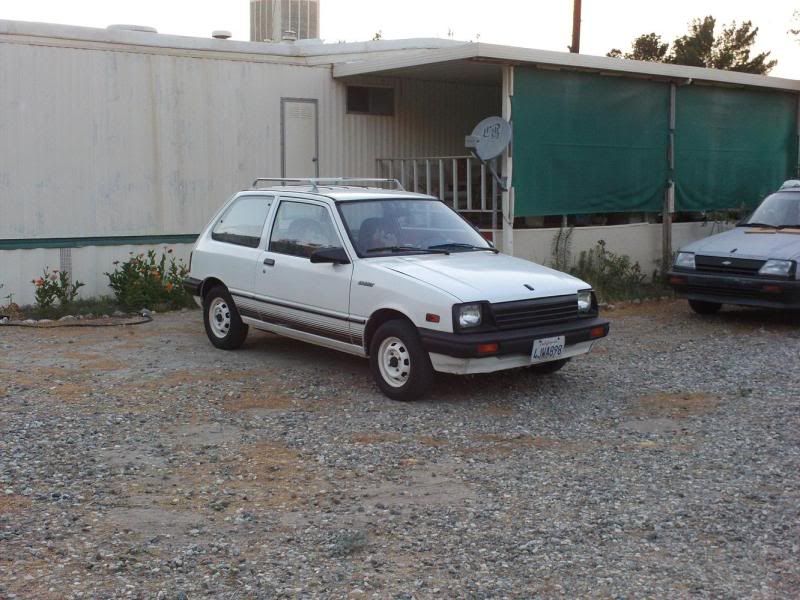 with parts will be more willing if you prove you are not being lazy and show them exactly what you are asking.
You've got 50 posts in the last 6 months and you still haven't learned to post a picture in your thread. Now is the time.
Study this
viewtopic.php?f=2&t=4
and it will teach you.
Then, you will be on even ground with those who are trying to help you.
(And, by the way, you're welcome for answering the question of whether that blue header would work or not!)
You may be learning fabrication and may be a much better mechanic than I ever hope to become, but right now, kindly learn to post pictures so we don't have to go back and forth, looking to see exactly what you mean.
I look forward to learning from you
...Oh yes:
I am sorry if I am asking too much.
_________________
DIY Broken Bolt Removal:
viewtopic.php?f=22&t=41042
DIY Clutch Adjustment:
viewtopic.php?f=9&t=48281
DIY Wheel Bearings:
viewtopic.php?f=2&t=29003
DIY Shocks:
viewtopic.php?f=10&t=45483
DIY Wheel Align:
viewtopic.php?f=2&t=42479
Once you get the cars dialed-in (compression, leaks, bearings, alignment, brakes) swap in new rubber and glass, you've got something which should last for years!