Ha!
You guys would have died laughing when I told 'Mrs. Right' my next move.
Those $1 boxes are a cheap fix for all the crud we usually have littering our garages.
So, after Swifterthanu left, it seemed only logical that all the parts for the little GTi should come out of the boxes.
Problem is, which box did I put it in?
Some say MK1, some say MK2/3 etc.
Some have a list on the outside. But I only go to the junkyard 2 or 3 times a year. Guess it's about 10 years of accumulation. Just make sure you clean them all up before you box 'em so they don't stink up your garage.
Finally I hit upon it.
I'll go through the boxes, numbering them as I go.
Then, using the digital camera I can record exactly what is in each box.
(Some have 200-300 little pieces
)
Then, I can store the pictures in a folder corresponding to the number of the box.
After that, it should be a piece of cake to keep up with the parts and location...thanks to the magic of the digital age.
The computer and digital camera have certainly helped us fix our cars better!
It's not 'obsessive-compulsive', but rather a reaction to the high cost of the metal racks and plastic see through bins.
Even those only give you a rough idea of what's inside.
This system should make it easier to find things, although it will still take some time to find the part in the pictures and folders.
So back to the funny story: told her about the idea and she laughed, "Ha, you put everything away, and now you have to take it all out and do it again!"
Guess that means she thinks it's an OK idea. Over 45 boxes, and I can easily add 5 more this week.
We'll see what happens.
Glad to see Swifterthanu made it back in one piece. He must have flown!
You guys should see his rig. It is all business, and I needed a step ladder just to get up and clean the front windshield.
You don't see the unselfish behavior much anymore in the USA.
Yes, he sold the car for more than he bought it.
But just the fuel costs to trailer it down to L.A. (never mind the wear and tear on his rig, his time, and the toll a 4 day round trip drive takes on a person's body) was well over $600! So did he 'come out ahead'? Not really.
The car is an automatic. It is not perfect and needs some TLC. So I'll continue to take your suggestions (thanks for the transmission advice, I will use it and post progress here when I do!) and bring this little car back to life.
If each of us started a thread on our cars and updated each other with the progress, it would serve as motivation for the group.
Also, when you go to sell it, and someone is surprised at your selling price, you can show them exactly what you've done to restore the vehicle to reliable condition. Many times, I've looked back at some of my threads and realized I did a LOT more work than was remembered.
Here's the update for today: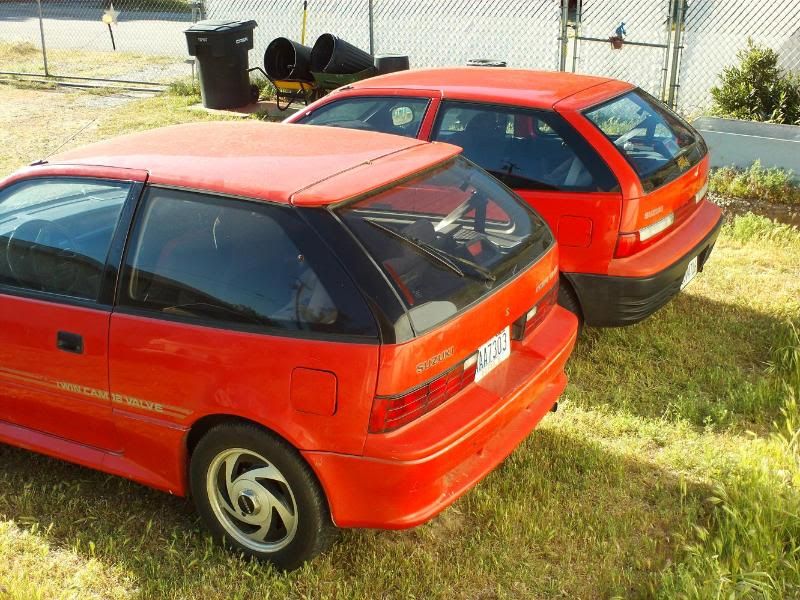 I call it 'his and hers': a '94 GA (black bumper) next to a '89 GTi.