PBC137 wrote:
Ok, this has now become just fcuking frustrating.....put back everything together with new headgasket. After about 20mins of intermittent starting for around 20-30secs at a time, the engine still won't start. The culprit...compression is zero in cylinders 1, 2 and 3, but I'm getting 150 psi in #4.

I've double checked the timing and all three marks line up perfect at TDC on #1. The only thing I can think of again is the 210/340 cams holding the valves open, but even that does not make much sense.

Anyone care to offer an explanation/help please? Thanks.
.
Ok i just revisited your thread
and would like to add
.
The hardest part about my build was the head work
the lifters specificaly so many little parts
you must pre load tthem befor assmbly or they will collapse give you issue with no ccompression
.
(QUOTE)
Next Let lifter soak in oil overnight
.
.
.
.
jaguar,vettes&sprints wrote:
Knuckles wrote:
Wow that came out clean eh.
are you having the head checked at all?
and make sure you use new bolts
.
thank and Thanks again for your help the disc was great I learned alot Lota of pictures...I like pictures..!
The Big block heads are for what they are a little complex now I understand $1500-$2000 for a head job is not unresonable lots and lots of labor involved .
I cleaned it with industral floor striper it was the only thing that would cut the smeggle
Parts cleaner didn't Bio Fuel, didn't I made up a piece of copper tube withholes put air to it and bubbled it in a 6 gal bucket for 10 hrs
I put a straight edge and it looked good so i might dodge a bullet will see.....
suprf1y set me up with a new set of head bolt for a great price...hope it wasn't a close out deal.?.
.
.
.
.
I disassembled the Lifter's today it was a bitch you have to slam them hard for the inter piston comes out
and let them soak all day the check valve parts are so small once there clean and lubed there even harder to put the pieces back loaded
.
.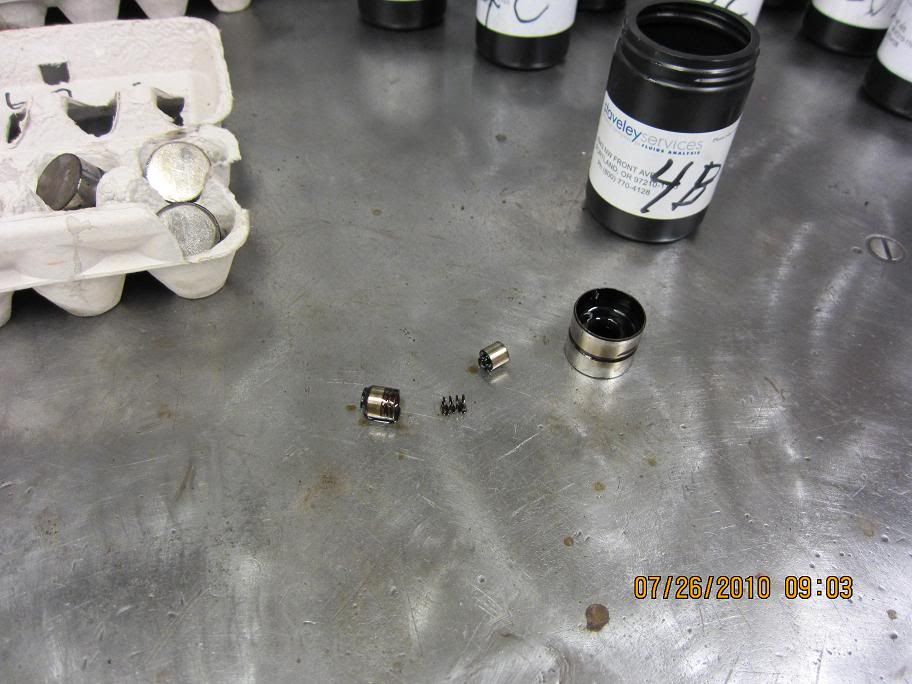 .
the check ball springs were so tiny I could hardly work them
.
.
.
.
.
a set of (16) lifter is around $150.00
it took me about 4 hrs to clean In hine sight should have just gone new but then i would have missed the wow factor
the little parts ..if they get gunked up you will ruin you motor .
that just scream Keep your oil changed and clean
.
.
.
.