Here's a better video of that engine I posted earlier:
listen to his tailpipe at the 2 minute mark and compare it with yours.
I had forgotten about the road rash splashing up into the timing belt.
Where I live, it is cold and the small animals crawl up into the engine at night to keep warm.
Without that timing belt cover, they get shredded before they get a chance to jump off.
Orpackrat probably lives in a civilized concrete jungle where there aren't any mice....must be nice!
I remember once, on a two day trip back from Oregon, I slept a few hours in a rest stop.
It was a bit cold, and the sleeping bag kinda smelled.
When I washed it, a dead mouse came out of the machine.
So I guess they can get inside the car, too.
Well, keep up the good work.
Since you were decent enough to post a video, here's the part number for the timing belt cover, for future reference:
9605 1592 (#13)
Oh yeah:
9605 1593
and
9605 1594 will get you the other seals which go up in there.
In case you are confused...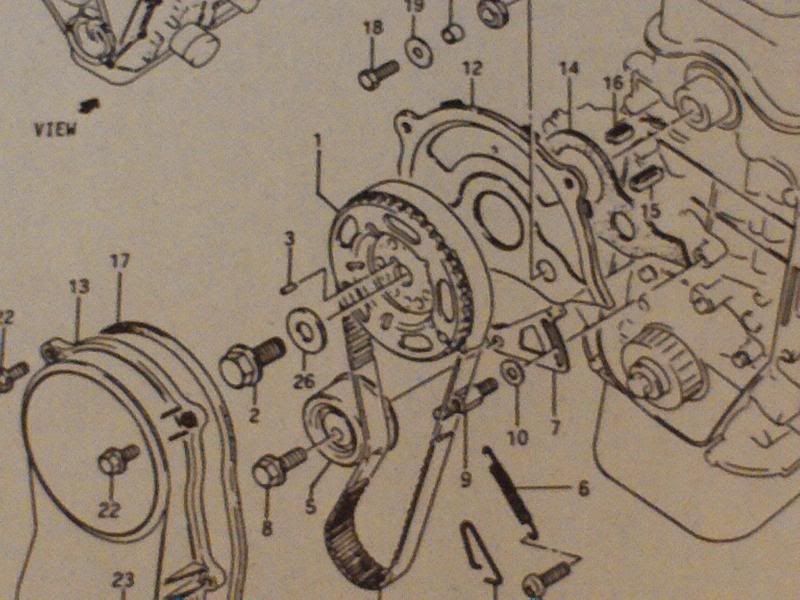 that would be parts
#13, #14, #15, #16, and #17...almost like they knew those parts would need replacing.
(and a good parts man can still find them)
Keep up the good work; looking forward to updates!
Almost forgot...he's right about that front main seal.
Usually, oil leaks down and back.
If you see a slight oil 'stain' up high where the cam gear is, then that cam seal probably is due for replacement as well.
Ultra gray, ultra black, the right stuff, whatever, and let that oil pan gasket dry for a day or two and you'll be amazed at how long it will last without leaking a drop!
While you've got the oil pan off, stick a breaker bar up in the front main counter shaft or a piece of wood to hold that puppy in place while you crank on the front main bolt...it's a 17 6 point socket, as I recall.
Try to be careful; sometimes those motor mounts can ruin your day if you yank in the wrong direction.
Good job on the magnet; you can also get magnetized drain plugs, but at least your 'old school' thinking cap is on!
Seals and gaskets are cheap; once you get that thing dialed in...well, you can read my signature, I guess.
Is there some wire or fuel line running along the front of the engine?