The time has come to cut springs on my 1994 GT
Rather than cut the springs that are currently on the car I pulled some donor springs from a Mk4 1.3 SOHC and one front one from a Mk4 G10--I can get the rest from that car if I screw up, so I should be set.
I am going for about 1" or 3 cm all around so my best guess, looking at all of this is that 1.25 F and 1.25 R from the Mk4 springs on my Mk3 GT should give me enough less than the 1.75-2" drop described by N1tr0 and T3 Ragtop on stock springs to be close to the 1" level I am looking for--can anybody that has done this confirm that I am in the ballpark?
There's a lot of information in the sticky, so I went back through and made a matrix of results applicable to Mk3 cars for reference:
N1tr0 recommends 1.25-1.5 F, 1-1.25 R for 1.5-1.75" drop (for either Mk3 or Mk4 using stock springs)
T3 ragtop 1.5 F, 1.25 R for 2" drop Mk3 Swift springs on vert (note, does not quite reconcile with above)
FASTRAKR 1 F, 1 R for "not much drop" but improved handling Mk4 springs on Mk3 metro
Georacer 2 F, 2 R for "too low for a daily driver" using Mk4 springs on Mk3 (assumed to be a metro)
Dan White 0.5 F, 0.75 R for a 1" LIFT on a 94 metro using Mk4 springs
mijerseyswift 1.5 F, 1 R Does not describe drop, Mk4 in Mk3 Geo but "front is too high"
obaja 1 F, 1.5 R "rear too much front not enough" mk3 metro stock springs
dentprone 1 F, 1 R "leaves front a little high" mk3 (geo?)
And finally, Superf1y as moderator says he cut 1F, 1R and car "handles great"--not sure it this is the same Mk4-Mk3 spring swap thread he references though, because the old pictures are broken and he appears to have been originally going for a lift for rallycross purposes?
Something I noticed along the way is that the right side front spring is slightly longer than the left side spring, which makes me wonder if I need to compensate for that somehow when I cut: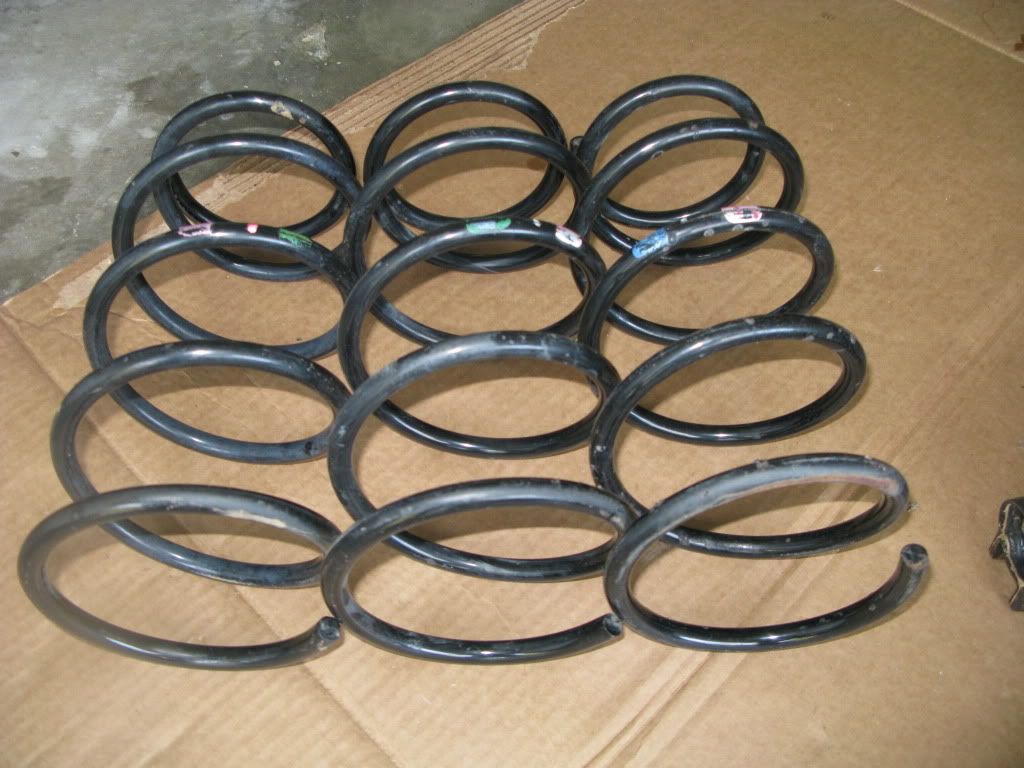 The springs are, in order, from a Mk4 g10 car left side, Mk4 SOHC 1.3 car left side, Mk4 1.3 right side. I keep thinking the 3 cylinder spring looks a little skinnier, but it might be an optical illusion--I can't see any difference with the tape measure, but then again that's probably not the best tool. Also there would appear to be a code here. Note that there are green and red paint marks on the L side springs and blue and red patches on the R spring. Both springs that are still on the Swift are blue and red though, so I don't know.
I'll post pictures as I make progress with the project.
_________________
Quote:
No one expects the Spanish Inquisition!
Spanish Inquisition Racing chip burning service--build yourself a custom chip!
http://www.teamswift.net/viewtopic.php?f=17&t=57216