Hey by any chance do you have the Diameter for the bushing that you have put .??? thank you.
I also tried stuffing the bushing in the slightly larger diameter pipe I had used to pull it out first, but had trouble getting my threaded apparatus to grip enough to pull it in. I ended up cutting them in half after all, figuring that if I ever want to replace my control arm they'll be a hell of a lot easier to swap. Chef's knife from the kitchen turned out to be the best implement.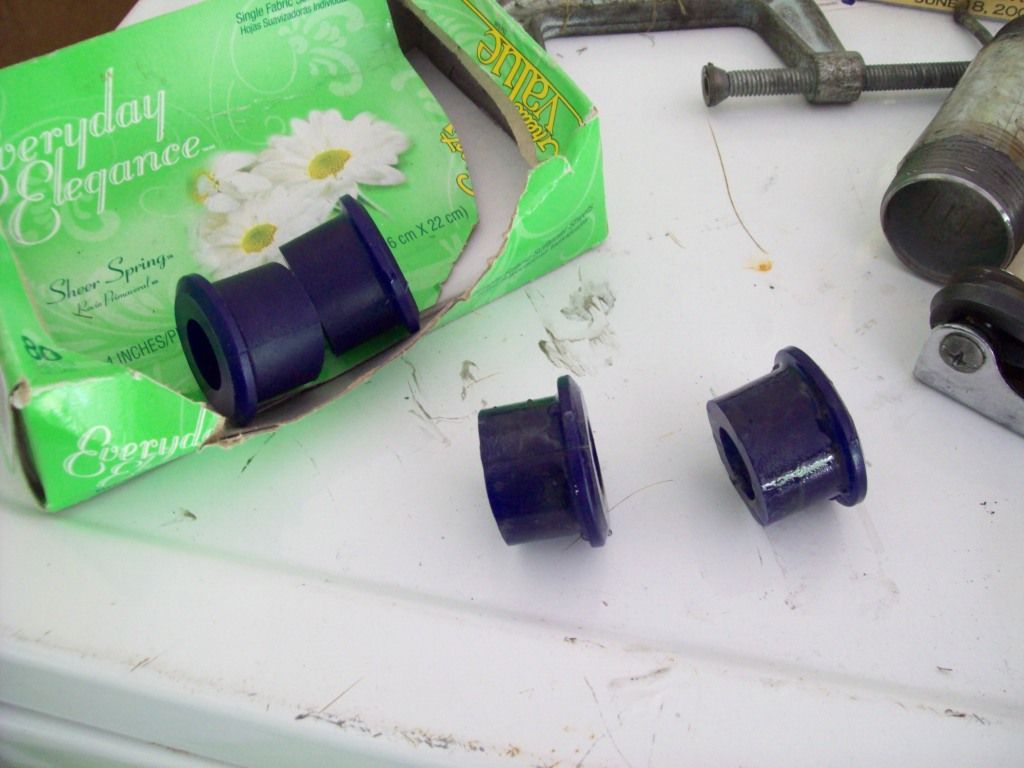 I still needed the carriage bolt to push the crush tube in and make sure both halves were seated properly.
Here's everything almost back together. Since I got the Superpro caster bushings for $20 on sale from 185 performance, I did not get the shims that come with the Whiteline kit. I added an extra washer in an attempt to get just a little more caster--I haven't seen any pictures of anybody else's bushings in place, so I hope I did this correctly.
Here's everything completely back together
Notice that I had to swap the lock washer with a thinner one to make everything fit and that the bolt is now just flush with the retaining nut, so that's as much caster as I can get with shims and bushings I guess.
The effects are fairly subtle in ordinary driving, but the car does seem a bit better planted--I expected steering effort at low speed to increase dramatically, but not so much after all. I had already gotten the front of the car much more grip by removing the front swaybar entirely, but, for what it's worth, I can now take the average freeway ramp around here at better than 50 on my cheap DD tires, so grip is good, and where I was a little too loose before I think the stiffer bushings helped to tighten things up again in spite of any further increased grip at the front. I am now just about perfectly neutral with the ability to get oversteer with trail braking if I want it--follow the Spanish Inquisition Racing thread in track talk if interested in the rest of the set up.
If anyone is reading this in the not too distant future and looking for bushings, try searching by part number at 185 performance as they may discounted for clearance.
http://store.185performance.com/